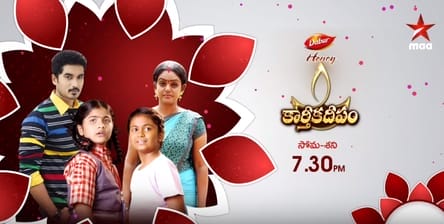 Karthika Deepam 2nd June 2022 Written Update on TellyExpress.com
The episode starts with Nirupam demanding Hima to tell him why she is scared and asking whether her love for him is correct or not. Hima questions why he spoiled her alliance. Nirupam says why do you want to marry another? you're doing so much and this is making me kill my patience. Hima says Nirupam, I have right on my marriage.
Nirupam asks her to stop calling him by name and questions why she felt jealous when he was with Jwala. Hima asks him to marry the one she chooses for him. Nirupam gets angry and asks if she wants him to marry Shoba like his mom. Shoba comes there. Hima says she never wants him to marry Shoba. Nirupam receives a call. He goes out.
Shoba confronts Hima. Hima says her answer is still the same. Shoba challenges Hima that she will marry Nirupam. Hima thinks to eye on Swapna and Shoba. Jwala comes to the hospital. Nirupam asks her to come with him. Jwala agrees. Shoba tells Nirupam that she will take him. Nirupam asks her to not forget her advice and leaves with Jwala.
Prem thinks to confess his feelings to Hima. He thinks Jwala spoiled his attempt. He plans to express his love in the old way. He writes a love letter but he thinks it's not his way then he thinks to record a selfie video expressing his love for Hima in a beautiful background.
Nirupam thinks he is not getting peace in the orphanage too. Shantabai sees him and informs Shoba that he is alone and arrives at the orphanage. Shoba thinks Jwala loves him if she goes to meet him. Another side Jwala thinks Nirupam is left in the middle way telling her he has work. She calls him to know where is he. Nirupam tells her he is in the orphanage. Jwala tells him she is coming to the orphanage.
Prem records a selfie video expressing how much he loves Hima. He thinks to forward it to Hima in the nighttime so she can check it in peace. Jwala comes to the orphanage. Nirupam feels happy seeing her. He thinks to ask Jwala to know why Hima is rejecting him and what's stopping her from their marriage. Jwala asks why he came. He tells her he is getting peace in the orphanage. He thanks her for showing him this place.
Shantabai asks if they drink tea. Jwala asks her to send them 1/2 tea. Swapna calls Nirupam and asks where is he. Nirupam tells her he is at the orphanage. Swapna asks if he is with Jwala and questions why he is doing friendship with her. Nirupam tells her he will do what he likes and if I like auto wala then I will do friendship with her.
Episode ends.