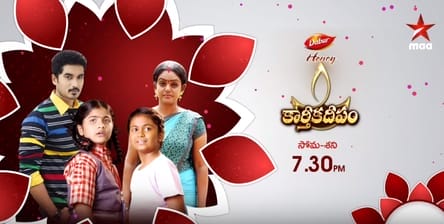 Karthika Deepam 2nd November 2020 Written Update on TellyExpress.com
Episode starts with Hima asks why she mentioned kids when she have only one daughter. Deepa says she have another daughter along with Sourya. Karthik asks what. Deepa says Hima is like my own daughter that's why I wrote it in that way. Hima happily hugs her. Karthik asks Soundarya to read another chit. Everyone gets tensed thinking what she might wrote. Soundarya reads Sourya letter saying Hima must know the truth and we live happily like a family.
Mounitha thinks Rowdy is making her work easy. Karthik asks what's the truth. Sourya sats Hima is asking you for her Parents so I want her to know that truth. Next Soundarya reads Hima letter saying she wants to have a parents like Karthik and Deepa in next birth. Karthik gets emotional and asks Hima to come near him. Hima goes to him, Karthik kisses her forehead. Than Hima leaves outside with Sourya. Deepa thinks don't know when time will come to reveal we are your parents.
Soundarya takes Mounitha chit. Mounitha says us it needed to read it outside. Deepa says it's needed and asks Soundarya to read it out. Soundarya reads that Karthik must get united with Deepa. Karthik asks why she wrote it in that way even after knowing Everything. Mounitha says you don't know some facts, I'm the one who tried to kill Deepa even after separating her from you using Vihari.
Deepa and Soundarya gets shocked. Karthik says stop it, what are you saying. Mounitha says in future your Mom and Deepa will blame me in this way and you may believe it that's why I'm agreeing it because these people don't like my friendship with you and you too forget everything and gets United with your wife. Karthik says stop it, I won't believe anything against you because I know about you and he leaves from that place.
Mounitha happily smiles. Soundarya says why I feel you did all these crimes? Thanks until now I saw you in one angle but now onwards I will enquire your other angle and bring out your secrets. Deepa thinks Mother in law will kill Mounitha if I tell everything Mounitha revealed is true but I don't want to create issue at this time.
Mounitha smiles and says I know that you planned something against us but at last victory belongs to me and can you tell why you invited me. Deepa smiles and says it's our reverse plan and you get tensed seeing our respect. Deepa and Soundarya mocks her in basti language and leaves. Mounitha won't understand that language.
Mounitha sees Anji is coming inside and she hides behind sofa when Anji prays to goddess and leaves after placing the car keys in table. Mounitha hurriedly goes to her car but it won't get started. Mounitha thinks Karthik will believe of Anji reveals the truth so I must leave from here. Anji comes towards her car and watches his mobile while standing near Mounitha car. Mounitha gets tensed and bashes him in her heart. Anji leaves after getting call than Mounitha repairs her car and leaves from that place.
At night Deepa says Doctor babu is not at home and hospital and he might be went to Mounitha home. Soundarya says rascal, we left Mounitha without teaching proper lesson to her. Deepa says today also Mounitha dissaperared suddenly. Soundarya says yes and I feel their is some mystery and we must know it. Deepa says Mounitha is getting scared seeing something, can it be Anji? Soundarya says it can't be because Anji is new one. Deepa says maybe but we have to found reason behind Mounitha behaviour.
Precap – Sourya says Doctor babu won't accept us. Hima says stop it, he is Doctor babu to me and call your Dad as Dad. Sourya and Deepa gets emotional.