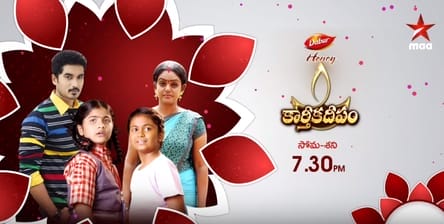 Karthika Deepam 2nd November 2022 Written Update on TellyExpress.com
The episode starts with Karthik assuring Deepa that Sourya should be here. Deepa asks Karthik how does he know? Karthik asks Deepa if she has two daughters why does she only feel one daughter is here? Deepa is not able to answer Karthik's question? Karthik says it's a maternal instinct of a mother about the child. Deepa comments on what he said.
Sourya asks Indrudu where did he get the money for this puberty function. Chandramma says there is no need for her to think about it. Sourya says she also doesn't want to think about it but reminds them what they used to do before they met her. Indrudu says they took a debt to do it. Sourya feels emotional thinking about her parents.
Durga consoles Deepa. Deepa says nothing is going her way. Durga comforts Deepa. Deepa asks Durga where is Vaani. Durga says he didn't want to disturb them as they are going for Sourya. Durga says Vaani came by our side to kill them. Durga says to Deepa what she did last night? Deepa gets angry hearing this and goes to Mounitha.
Siva asks Mounitha to eat something. Mounitha says she is not in the mood. Mounitha asks Siva where is Karthik? Siva says he doesn't know but Deepa is in home. Mounitha thinks if Karthik got to know the truth from Sourya or Durga. Mounitha thinks if Karthik knew the truth then he would have given her left and right. Deepa comes and slaps Mounitha.
Deepa questions Mounitha on Vaani's matter for hiring her to kill Deepa. Mounitha says she would do anything to get Karthik. Deepa says to Mounitha that she can't kill him until God's grace and Karthik's love are with her. Deepa asks Mounitha where is Karthik. Mounitha says she doesn't know? Mounitha says she will kill her for distancing Karthik from her? Mounitha tries to choke Deepa but Deepa pushes her away. Deepa says she will reveal to Karthik about Vaani's matter and leaves from there.
Indrudu gives money for the tent and other decorators. Karthik comes and asks Indrudu if he saw these people showing the photos of Sourya and Varanasi. Indrudu gets shocked seeing the photos. Sourya tries to look from the window but Chandramma stops her. Indrudu says he doesn't know them. Karthik leaves from there. Indrudu comes into the house.
Sourya asks Indrudu who was he talking to? Indrudu says he was the one who gave debt to them. Sourya says he should have called her to say thanks. Indrudu comments on what she said. Sourya leaves from there. Chandramma asks why did Karthik come here? Indrudu says he came here to question us about Sourya and Varanasi. Indrudu asks if Sourya saw Karthik. Chandramma says she didn't and says they have to be careful.
Episode ends.