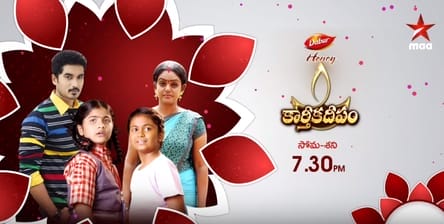 Karthika Deepam 30th November 2022 Written Update on TellyExpress.com
The episode starts with Anandrao asking if Karthik and Deepa are alive? Soundarya says she has no doubt that Karthik and Deepa are alive and says Indrudu left the town because he is scared of someone and says it might be Karthik and Deepa. Hima also hopes Karthik and Deepa to be alive? Anandrao says they have to first take care of Mounitha. Soundarya agrees and says she will go to Mounitha tomorrow.
Karthik is shown to be worried about Deepa in the hospital and Deepa is on bed. The doctor comes and asks if everything is alright. Karthik agrees and asks the doctor if they are going to do the operation tomorrow. The doctor says they are going to do operation after 2 days. Karthik asks why. Doctor reminds Karthik he has to do the operation and he needs to be fit mentally and physically. Karthik says he is just worried Deepa seeing Deepa on the roadside fallen unconscious. While talking about it Karthik has tears in his eyes. The lady doctor feels jealous seeing that Karthik loves Deepa so much. The doctor tells Karthik about it and leaves. Karthik thinks it is Deepa's bad luck as he couldn't keep Deepa happy after their marriage.
Mounitha thinks of where did Karthik go. Mounitha thinks Karthik recalled his past and went to Hyderabad. Mounitha decides to go to Hyderabad. Mounitha calls Siva Latha and asks her to find a buyer for the boutique as she is going to leave Hyderabad. Siva Latha tries to convince Mounitha to not sell the boutique. Mounitha asks Siva Latha if she doesn't want to sell the botique then she can maintain it. Mounitha says she is going to give the boutique to her as Siva Latha helped Mounitha quite a few times.
Siva Latha asks Mounitha to wait for a few days for Karthik. Mounitha says if she has a chance she will kill them. Soundarya comes and asks Mounitha what is she talking about? Mounitha says she is talking about a guy who didn't give her the material. Soundarya says there is something in the house that she doesn't want her to see and goes and looks in the house. Soundarya searches the house and finds nothing in the house. Soundarya questions Mounitha on why did she hit her on the head? Mounitha escapes from Soundarya and goes into her room.
Soundarya bangs on the door and asks Mounitha to open the door. Mounitha opens the door and points a gun at Soundarya's head. Mounitha says to Soundarya even after she came here without interfering with anyone they come and keep insulting her and says that's why she hit her on the head. Soundarya thinks Mounitha might not know Karthik and Deepa are alive. Mounitha asks Soundarya to leave. Soundarya takes the gun from Mounitha and points the gun at Mounitha's head. Mounitha pleads with Soundarya to not kill her. Soundarya asks Mounitha to come with her. Soundarya holds Mounitha at gunpoint and asks Mounitha to get in the car.
Sourya thinks of her parents. Sourya asks Chandramma where is Indrudu? Chandramma says he is taking rest as he said that he is not feeling well. Indrudu is shown to be recalling about Karthik and Deepa. The doctor says to Karthik that Deepa's condition is stable but it is spiking sometimes and says Deepa might be thinking of something. Karthik says he will ask Deepa not to worry about anything. Doctor says if it is possible to solve the problem it should be solved. Karthik thinks of it can be solved that easily Deepa wouldn't be worrying this much.
Episode ends.
Precap – Deepa questions Karthik on why didn't he go out looking for Sourya? Karthik asks Deepa how can he go out leaving her in this condition? Deepa questions Karthik on why does he care so much for her and asks Karthik what does she mean to him? Indrudu feels guilty about Deepa lying on the road unconscious looking for her daughter and says about it to Chandramma. Chandramma asks what are they going to do? Indrudu decides to give Sourya to her parents and tells about his decision to Chandramma.
Deepa is shown to be falling unconscious in the hospital and Karthik catches Deepa.