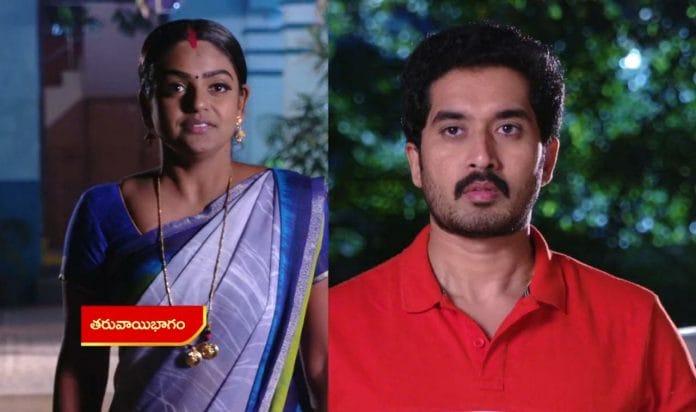 Karthika Deepam 31st May 2022 Written Update on TellyExpress.com
The episode starts with Nirupam recalling Hima's confession that she likes him and how she called off their engagement. Hima comes to Nirupam's cabin and calls him Doctor Nirupam. Nirupam questions how can she address him as Doctor Nirupam by leaving Bava's word. She questions if she forgets their relationship too. Hima tells him she feels she is not correct for him. Nirupam says he has to decide.
Hima asks him to marry the person whom she chooses for him. Nirupam says I know you love me so tell me if anyone warned you? Shoba tries to leave the cabin saying sorry to them. Nirupam says there is nothing here to say sorry. He leaves out with Shoba. Hima thinks why Jwala didn't come on time.
Jwala takes Soundarya to her place. She makes Soundarya enter her house with her right foot. Jwala says it's my palace. Soundarya says it's good. Jwala says it's not like their palace. Soundarya says she doesn't know the sorrows of people in the big bungalow. Jwala asks what sorrows they have. Soundarya says no one can see the tears of fish in the water. Jwala says you said amazingly. She asks her to eat what she gives her. Soundarya asks who will stay with her in the house.
Jwala says uncle and aunty as my parents are expired. She asks what she wants to tell her. Soundarya says, my granddaughter. Hima calls Jwala and asks why she didn't come. Jwala disconnects the call telling guests are at home. Jwala asks Soundarya what she wants to tell her. Soundarya tells her granddaughter back off from her engagement so knows the reason and makes her agree to the marriage. Jwala says she can't do it.
Swapna sees Chandramma and Indrudu. She thinks to trap them. She tells them her car is not working. Indrudu checks the car and tells her that car is in good condition so give money to orphanages if you want. Swapna asks if her car is really good.
Indrudu says don't think that previously we charged you by puncturing the car as we are good. They leave. Chandramma asks why he left her without charging money. Indrudu says she wants to teach us a lesson that's why I failed her plan, we already charged half the auto amount and we can charge the remaining half later.
Hima returns home. Soundarya makes Hima meet the couple who are doctors. Chandra Sekhar tells Hima that his son likes her that's why come to talk with your grandparents. Hima thinks in this way Nirupam may forget her and she thinks to make Nirupam know her grandparents are looking for other alliances. Hima leaves. Chandrasekhar says she is good. Soundarya agrees.
Swapna asks Nirupam why he sits in the darkness. She asks him to forget Hima. Nirupam says it's tough to forget her as I thought of her as my life and wife but why did she reject me. Swapna asks him to not think about the person who rejected him. She asks him to come to have food with them and tells him she invited Shoba too.
Nirupam asks why she is inviting Shoba every time. Swapna tells him she wants him to marry Shoba. Nirupam asks her to not create hopes in Shoba as I won't marry anyone except Hima. Swapna says Hima is marrying Doctor Chandrasekhar's son but here you don't want marriage.
Episode ends.
Precap – Nirupam tells Hima that he will cancel her marriage. He tells her that he won't let her marry anyone except him. Jwala comes there.