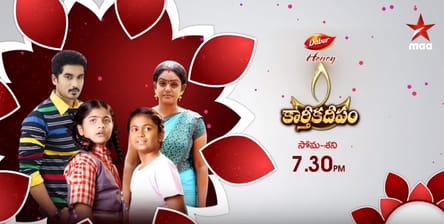 Karthika Deepam 3rd August 2022 Written Update on TellyExpress.com
The episode starts with Prem giving a water bottle to Nirupam. Nirupam says it's injustice. You gave biryani to her and a water bottle to me. Prem asks them to adjust saying it's not a picnic. They go to eat food. Sourya places biryani on her plate. She denies giving him a share. Nirupam says I came to save you then why can't you share it with me. Sourya says she doesn't have sentiments. Prem divides biryani on his plate. Hima says you gave them one packet of biryani to get them closer but why did you buy us one packet? Prem thinks he wants love to bloom between them too. He asks her to share it. She agrees.
Sourya says it's looking tasty. She asks Nirupam if he is hungry. Nirupam agrees. Sourya calls him to have food. Nirupam feels happy. Sourya asks him to eat his share. Nirupam eats it. Prem asks Hima if she likes it. Hima agrees and asks why this candle. Prem says kind of candlelight dinner. He thinks it's going to be his memory. Prem praises her smile.
Nirupam thinks Sourya is good seeing her. Sourya asks him to eat biryani not her. Nirupam eats it. Sourya thinks they are sharing food but can't share the food. She gets a cough. Nirupam gives her water. She feels better after drinking it. She thinks she doesn't have a chance to share his love in her lifetime.
Prem tells Hima that today is special to him. Hima says don't know what is the position of Nirupam and Sourya. Prem says they can resolve their differences if they talk to each other. Nirupam calls Prem. He asks him to get a bedsheet from his car. Sourya asks do they need to stay here at night. Nirupam says yes as they are not getting anything to break the door. Prem gives him a bedsheet through the window and asks him to not call him again.
Hima asks why he arranged a bonfire. Prem says to protect them from animals. Hima says who marries him will be lucky. Prem thinks it's you. Something falls in Hima's eye. Prem blows air to clear her eye. Both lost in each other. Which turns out to be his imagination which gets broken by Hima calling him. Hima asks if he loved anyone. Prem says he is loving. Hima asks who is she. Prem says she will know soon. He goes to check what Nirupam and Sourya are doing. Hima takes Prem's phone and sees his love confession video and learns that he loves her. She stands in shock. Prem asks if he receives any calls. Hima gives him the phone and tells she saw the video. Prem says I sent this video to you but you didn't see it as your phone got repaired. Hima tries to leave. Prem asks Hima for a reply. Hima leaves without answering him.
Nirupam sleeps on the couch. He sees Sourya is shivering. He covers her with a blanket. Hima and Prem notice them and leave. Sourya sees a blanket on her. She puts a blanket back on him. He wakes up. Sourya says this might be new for you but not for me and you can't adjust here. Nirupam says there is nothing like that if in her place there is Hima I can even adjust to even worse places than this. Sourya thinks Hima has already taken my place. Sourya goes to sleep on the floor in tears without talking to him. Nirupam thinks about Hima.
The next day, Nirupam wakes up. He covers Sourya with a blanket and calls Prem. Prem and Hima come out of the car. Hima asks what they need to do. Prem tells Nirupam that he is coming and tells Hima that they can act like unlocking the door. Sourya wakes up. Prem says it may open as we got stone to break it.
Episode ends.