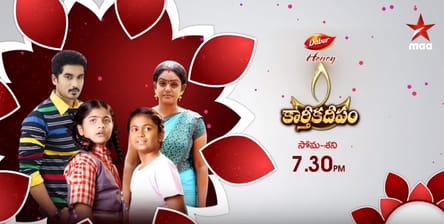 Karthika Deepam 4th August 2022 Written Update on TellyExpress.com
The episode starts with Nirupam asking Prem to unlock the door. Prem says he got the second and breaks it. Souya comes out and asks if he keeps them here in the building for the whole night because of this small lock. Prem says they didn't get anything in the night to break it.
So let's leave as our grandparents are waiting. They leave. Soundarya asks Sourya who might kidnap her. Sourya asks if she is asking because she doesn't have a range to get kidnapped. Soundarya says she didn't mean it. Anandrao asks her to not think in the wrong way. Prem asks her to leave it.
Soundarya asks Prem, why can't they remove the lock at night. Sourya asks him to clear the doubts of everyone saying she will get the chips. Soundarya says she won't raise the kidnap topic. Hima and Nirupam say they get freshen up and ask her to prepare tiffin for them. Prem asks her to prepare 3 tiffins to set the mood for everyone. Everyone looks on. Prem asks won't they smile for the Joke.
Swapna comes there and throws the vase. She asks what's happening in the family. Soundarya says Sourya got kidnapped. Swapna says she doesn't care about anyone and seems like you're jailing my sons here. Soundarya asks what's she saying. Swapna says she is unable to bear when her sons are at their place and this Sourya may mesmerize my son Prem like Hima showed magic on my Nirupam.
Sourya warns her to not talk rubbish. Swapna says she can't lose her sons in Sourya's issues. Prem asks her to not create any issue as Sourya and Hima didn't do anything. Swapna says you guys won't change and my tension won't reduce until I die. She leaves without listening to them.
Shoba thinks about how she gets settled as her kidnap plan is failed and she is unable to repay her loans. She thinks Swapna is of no use. Swapna comes there. Shoba asks what happened. Swapna says this kidnap is uniting everyone and I don't know how to change everything in our favor. Shoba says she can change Nirupam by doing a hunger strike. So Nirupam agrees to marry her by breaking his marriage with Hima. Swapna looks on.
Anandrao says to Soundarya that he has some doubts about this kidnapping. Soundarya says I also asked Sourya about it but you know how she answered. Soundarya says she doesn't know who they are but I know a solution for it and says we should get Nirupam and Hima married
Anandrao asks why is the marriage a solution. Soundarya says Hima might have done this kidnapping to get Nirupam and Hima together. If not how can they can't open the lock at night but they can still open the lock at the morning. Anandrao says if thinking in her way there is also some logic.
Sourya thinks of what Nirupam said and throws the pillow in anger and it hits Anandrao who is coming. Sourya says sorry. Anandrao accepts her apology. Anandrao asks on who is she angry. Sourya says it's on herself. Anandrao gives her a life lesson.
Hima thinks of Sourya and Nirupam. Soundarya shows Hima the weeding card and says they are going to get married at this time. Hima says this marriage should not happen. Sourya and Nirupam should get married. Soundarya slaps her and Hima asks what is her fault. Soundarya says it doesn't matter who is at fault she should get ready to get married. Hima says for Sourya's happiness we should get her married to Nirupam. Soundarya tells her to shut up. Sourya comes hearing Soundarya's shout.
Episode ends.
Precap – Soundarya will ask where is Nirupam going. Nirupam says he is going to meet mom. It is shown that Satya came and told Nirupam that Swapna is not eating anything. Hima says if he goes now Swapna will get you married to Shobha. Hima and Soundarya asks Nirupam to stay. Sourya thinks everyone is thinking about Nirupam and Hima marriage is it right to stay here.