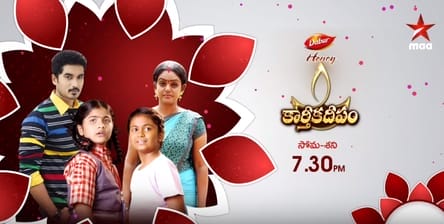 Karthika Deepam 4th February 2022 Written Update on TellyExpress.com
The episode starts with Anjali getting shocked knowing Karthik arrived for Sourya's surgery and she joins them in the operation theater and thanks him for coming to their hospital. Deepa thinks about where Doctor babu went leaving Sourya in this state. Hima and Apparao question her about Karthik. Deepa cries helplessly. Karthik thinks Deepa words that he can do the surgery and he starts the surgery thinking he have to save his daughter.
Vinny serves tea to Bharati and Mounitha. Bharati asks if she can make Vinny stay for some days. Mounitha says Basti people are scaring my nurses that's why I brought Vinny from Kerala. Bharati asks her to pack her luggage so they can leave for Anjali's place at night. Mounitha asks her to choose one finger and she chooses one. Mounitha thanks her for choosing the finger that she will never Karthik in the place where they are going.
Karthik finishes the surgery. Dhanunjay tells he finished the surgery quickly. Anjali says that's why he is special and she tells him that the patient parents can't pay his fee. Karthik says fine and leaves asking them to take care of post-surgery care. Karthik comes out from operation theater. Deepa recognizes him and feels happy. Karthik leaves signing her that the operation is successful. Anjali and Dhanunjay comes out and tells her that the operation is successful and Anjali asks her about her husband. Deepa tells them he went out.
Rudrarani gets shocked knowing Sourya's operation got successful and she asks how they afford to pay the money for the operation and she feels scared thinking what if they pay her loan then no one will value me in this place. Sourya gains consciousness and asks Deepa to take her home. Deepa asks her to sleep and assures her that she will take her soon. Sourya asks her where are her Dad and Hima. Deepa tells they are waiting outside. Sourya tells her she wants to see her grandparents and asks her what happened to her. Deepa lies to her saying it's stomach ache. Sourya says I'm getting uncomfortable in heart and questions how they get money for her operation. Deepa asks her to don't asks her questions. Sourya says grandparents can't come here as they are not aware of my situation. Deepa asks her to sleep.
Apparao says I know you might went to temple Bava but I feel you're great and sorry for calling you with names. Karthik tells him fine then Apparao leaves for the hotel. Bharati tells she still feels it's a surprise that you're coming. Mounitha tells str doesn't want to come but some force of love is attracting her and maybe it's the love of my Karthik and they leaves in Bharati car. Anjali checks Sourya. Sourya thanks her. Anjali tells nothing will happen to you as a great cardiologist operated you. Sourya sleeps. Anjali tells she is feeling lucky to have Karthik come to their hospital because of them and she tells she won't charge fee from them and she asks Deepa to cook for the guests in her daughter birthday party. Deepa and Karthik agrees.
Episode ends.