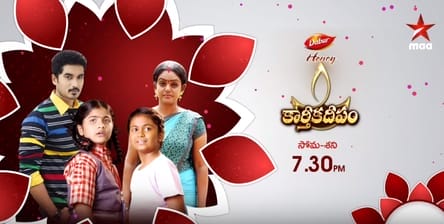 Karthika Deepam 4th January 2023 Written Update on TellyExpress.com
The episode starts with Deepa putting forth her request to Karthik that he needs to act like there is nothing wrong with her and says she wants to die peacefully. Karthik agrees to Deepa's request. Karthik asks Deepa what is he going to do today? Deepa says she is going to make cucumber pickle as Hima likes it. Karthik asks Deepa how is she going to send this pickle to Hima? Deepa reminds Karthik that Hema Chandra is living right infront of them. Deepa says she wil give this pickle to Hema Chandra and he will make sure that it reaches Hima. Deepa asks Karthik to get ready.
Karthik agrees. Karthik goes and sees that the paste is completely over. Karthik asks Deepa about it. Deepa reminds Karthik of what she once did when he came to Sriram Basti. Karthik recalls about it and understands that he needs to look for a rock. Karthik comes out of the house to look for a rock. Karthik sees Soundarya and Anji coming to his house. Karthik goes inside the house and brings a lock and puts it on house door to show that there is no one inside the house. Soundarya and Anji come to Karthik's house. They see that the house is locked. Soundarya and Anji after searching the other houses leaves from there. Deepa comes and sees that the house door is locked. Deepa knocks on the door and asks the Karthik to open it.
Karthik sees Soundarya leaving the house and opens the door. Deepa asks Karthik why did he close the door. Karthik says to Deepa that Soundarya came to their house looking for them and says he locked the door so that they will leave from here. Deepa says it's good that Pandari is not here. Karthik says to Deepa that Anji is Pandari's son. Deepa asks Karthik how does he know. Karthik says to Deepa how he once forced Pandari for an answer as she doesn't tell them anything about her family. Deepa says to Karthik that he should tell about Anji. Karthik says it is not right to tell Pandari at this time and says he will tell Pandari when the time is right.
Charu Seela comes and sees Soundarya and asks what is she doing here? Soundrya says she came here looking for Karthik and Deepa. Soundarya asks Charu Seela what is she doing here? Charu Seela says her house is here. Soundarya asks Charu Seela to call her if she saw Karthik and Deepa. Charu Seela agrees to call her.
Deepa comes to Hema Chandra's house and asks him to give this pickle to Hima and asks Hema Chandra to call Soundarya here. Hema Chandra asks Deepa about it. Deepa says to Hema Chandra that she wants to talk to Soundarya about her situation and says she will understand. Hema Chandra praises her decision and goes to call Soundarya but Hema Chandra and Deepa see Karthik in the house. Karthik confronts Deepa and Hema Chandra about what are they going to do? Karthik says to Deepa that his life and death are with her. Karthik says he took this decision after thinking about it and asks Hema Chandra not to tell his family anything. Karthik sees Hima coming. Karthik asks Hema Chandra again not to tell them anything. Karthik takes Deepa to hide from Hima.
Hima comes to Hema Chandra and asks him if she can also come with him to look for her parents. Hema Chandra agrees. Hema Chandra asks Hima to stay as he made Dosa and cucumber pickle. Hima agrees.
Soundarya and Anandrao lose hope as they searched all the town and they couldn't find Karthik and Deepa they think about leaving the town. Soundarya says to Anandrao that a house is locked and says they will wait for 2 days to find out who is in that house so that they don't have any regrets later.
Hima eats the cucumber pickle and says this is exactly like her mother used to make. Hema Chandra asks Hima to think that her mother made this and eat it. Hima says to Hema Chandra how much she is missing her parents. Deepa feels emotional seeing this. Hima leaves from there after a while. Karthik and Deepa come out. Karthik asks Hema Chandra again not to tell anything to his family. Deepa also agrees with Karthik and says she will not force him to go to them. Deepa asks Hema Chandra for an umbrella to leave from here without showing their faces to Soundarya and Anandrao.
Episode ends.