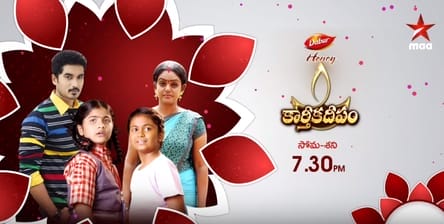 Karthika Deepam 4th November 2022 Written Update on TellyExpress.com
The episode starts with Durga asking Deepa if she still doubts Indrudu and Chandramma. Deepa says yes and says Chandramma is still worried just because I asked her to show her daughter once. Durga asks Deepa if she has any proof other than her gut instinct. Deepa says if she had then she will be with Sourya and not here thinking about it.
Durga prepares tea and tells her that no parents want to show their kid if we tell them their kid is like our kid. He advises her to not think about it as they may not invite you to puberty function if it's Sourya's and they don't want to give her to you. He says they may escape from this city after seeing you so leave about Sourya and concentrate on Mounitha. Deepa looks on.
Karthik takes Mounitha to her car. He asks where is mechanic. She says he left after repairing the car. Karthik doesn't believe her and asks her to not cheat him. Mounitha says she is not cheating him and shows him the message. Karthik says you may lie to me that the car is repaired and questions her if she knows about the auto driver.
Mounitha says she doesn't know and beats her head to the car. Karthik thinks Mounitha is lying and decides to be careful. Mounitha asks why he is not stopping her even though she is hitting her head. Karthik says you know the mechanic so call him if something is broken. He leaves raking his car.
Later Mounitha thinks Deepa is responsible for Karthik's suspicion on her and she decides to confront Deepa. She goes to Deepa's house and pushes the doors angrily. Deepa asks whose anger she is showing on the door. Mounitha says she hates her and asks her what she did to make Karthik against her. Deepa says I need to question you about it as you snatched my husband and you can't live in peace as you eyed my Karthik who does not belong to you.
Deepa says she can make Durga kill her. Mounitha says she can't do it. Deepa says I can do it but I'm leaving you as you saved my husband so don't irritate me and think about your mistakes. Mounitha says no need to think as I won't leave Karthik. Deepa says let's see. Mounitha challenges Deepa that she won't leave Karthik even though she lost her life.
Chandramma waits for Indrudu. Indrudu returns home and tells her how he escaped from Karthik. Chandramma says you saw Jwala's father on road but her mother came to our house but I mislead her. They decided to shift to a new city. That time Anandrao and Hima come there.
Deepa recalls Sourya. Durga notices her in tears and asks her if she is thinking about Sourya. Deepa asks won't he trusts Sourya is there. Durga makes promises to her that he knows about Sourya's whereabouts and will bring her if she is there. Karthik stops Durga and asks where is he going. Durga tells him about his promise. Karthik thinks Mounitha is involved in it so it's risky if Durga goes there. He stops Durga and tells him that he and Deepa will go to Indrudu's house the next day. They agree. Karthik asks her what she prepared. Deepa goes to prepare food and thinks if Karthik regained his memory as he is spending more time at her place.
Mounitha decides to find the reason behind Karthik's change. Anandrao asks Sourya to return to their house. Sourya denies it and says she will return with her parents. Anandrao says we have to wait for your parents in our house as they return home if they are alive. Sourya says she feels her parents are here. Anandrao says they are not here and request her to return. Sourya refuses and asks how they get to know about their address as they changed without Varansi's knowledge. Anandrao says they can't leave her so they will try to know where she stays and he demands her return home but Sourya refuses.
Episode ends.