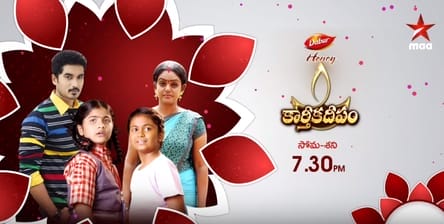 Karthika Deepam 5th August 2022 Written Update on TellyExpress.com
The episode starts with Soundarya saying to Hima that she is going to marry Nirupam. When Hima tries to explain she asks Hima to shut up. The event managers come at this time. Soundarya tells them what to do. Sourya sees this.
Swapna thinks Soundarya is dividing her family. Shobha comes and says they have started marriage arrangements. Swapna says she will not compromise in Nirupam's marriage. Shobha sees Satya and Prem coming. Shobha acts as if Swapna is not eating anything. Satya and Prem talk to Shobha about it. They ask Swapna they will talk to Nirupam but she atleast has to eat something. Shobha says she will get coffee. Swapna asks to mix some poison and give it to her. Swapna walks away.
When Soundarya's family get ready to eat food. Satya comes and Anandrao invites him to eat food with them. Satya says he came here not to eat but to tell to Nirupam that Swapna is not eating anything. Nirupam asks why is she is not eating anything. Satya says after you left the house she has not eaten anything. Satya asks Nirupam to come. Nirupam says you know why I came here. If I came to the house Swapna might threaten me to marry Shobha. So Nirupam says he can't come. Soundarya asks Satya to go and tell Swapna don't do anything stupid. Satya goes away.
Satya comes and asks Shobha if Swapna has eaten anything. Shobha says no. Satya tries to convince her to eat something. Swapna asks what did Nirupam say. Satya says Nirupam is not going to come as he is on their side. Satya says to Shobha according to him they cannot get married and says Swapna should see a good match for her. Swapna gets angry and says you are also with them and says she will marry Nirupam to Shobha.
Nirupam thinks of what happened. Hima asks what is he thinking. Nirupam says he is thinking about Mom. Hima says I am only thinking only about one thing about Sourya. Hima asks Nirupam to consider Sourya. Nirupam says Sourya doesn't love him anymore. Nirupam says what he said to Sourya at the bungalow when she was kidnapped. Hima asks how can you say that to Sourya you know she will be hurt. Nirupam says he said that so that she will be hurt and whatever feelings she has for me will also be wiped away from her heart. Nirupam says I also have one life and I want to spend with you.
Soundarya tells the people how to decorate. Nirupam is about to go in his car. Soundarya asks her where is he going. Nirupam says he is going to mom if he doesn't go mom might create trouble. Soundarya and Hima talk to Niruapam and Soundarya says if he goes Swapna will try to marry him with Shobha and says I will handle Swapna.
Satya eats food and Shobha comes and asks what he is doing. Satya says he is eating. Shobha asks how can he eat while his wife is not eating anything. Soundarya comes and slaps her. Soundarya says what is your authority in my daughter's house. Swapna asks how can you hit my about to be daughter in law. Soundarya says she will also hit her. Soundarya says Shobha is not her daughter in law. She shows the wedding card of Nirupam and Hima and says Hima is going to be her daughter in law. This marriage is going to happen at the fixed time.
Episode ends
Precap
Swapna and Shobha will come with wedding cards in their hands. Swapna says these are the wedding cards of Shobha and Nirupam. Soundarya says Hima and Nirupam are going to get married and this is final. Soundarya also asks Sourya as she said she is going to marry Hima with Sourya and asks Sourya to tell Swapna the same thing.