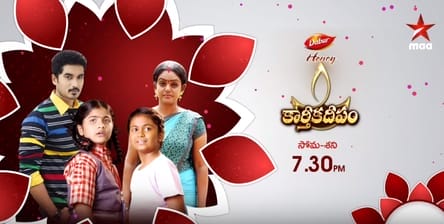 Karthika Deepam 5th February 2022 Written Update on TellyExpress.com
The episode starts with Aditya recalling Mounitha's challenge of bringing Karthik and her baby in 10 days and he tells Shravya that it's good Mounitha brings them. Mounitha asks Bharati where they can stay as there will be no hotels. Bharati calls Anjali and asks about their stay. Anjali tells them their house is big and sufficient for them. Bharati asks Mounitha to not keep any doubts. Mounitha asks can she meet her Karthik. Bharati suggests her to listen to the music. Mounitha says I know you're asking me to stay silent.
Deepa sees Karthik and tells him that she is always Doctor babu to her and she tells him to never come to help her as she doesn't like to see him in that way. Karthik tells Anjali helped us so it's our duty so let's surprise guests with your food and kids will be safe in Apparao's house. Tesla agrees.
Bharati and Mounitha decorates the house. Anjali asks Bharati shy she is making guests work. Mounitha says she likes to do it. Anjali sees mangalsutra in Mounitha's neck and asks if she is married. Mounitha tells yes. Anjali asks what her husband will do. Bharati asks her to not tell more details. Mounitha says she doesn't come to Hyderabad so it's fine and she tells her husband is a Cardiologist. Anjali asks if they know about Karthik.
Karthik arrives there and rings the calling bell. Mounitha tells she will open the door but Anjali says she will see and opens the door. Bharati asks Mounitha to tell her she doesn't know about Karthik. Mounitha tells her she is not scared as she is the wife of Karthik. Anjali sends Deepa and Karthik to the cooking room. Anjali asks Mounitha about Karthik. Mounitha tells her she is the wife of Karthik then Anjali tells your husband came to my hospital, do you know it. Mounitha gets shocked and asks why he came to their hospital. Anjali tells her he came to perform surgery on the poor kid. Mounitha feels happy thinking she found Karthik.
Deepa and Karthik turn on the stove and prepares the food. Mounitha tells Bharati that she is going to search Karthik. Bharati asks how can she leave without attending the birthday party. Mounitha says she is excited to search for him. Bharati says Anjali's husband will return in sometime so let's wait until the birthday party is over then we can search for him.
Karthik asks Deepa to make him learn cooking. Deepa says you have to do surgeries so don't talk in that way. Karthik smiles. Bharati asks Mounitha to supervise the food. Anjali asks them to see the taste of food as they are new cooks. Bharati assures her Mounitha will take care of it and asks her to don't take tension.
Episode ends.
Precap – Mounitha caught Deepa and Karthik.
Click to read