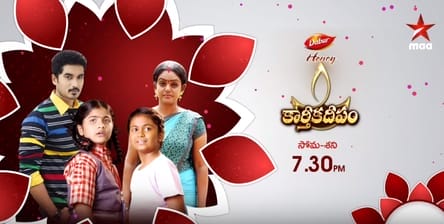 Karthika Deepam 5th November 2022 Written Update on TellyExpress.com
The episode starts with Anandrao requesting Sourya to return home. Sourya denies. Anandrao says Soundarya won't listen if you refuse to come. Sourya says she won't come even if Soundarya came. Indrudu says she is not interested to come with you so leave her. Anandrao warns him to not involve with them as he may take her forcefully too as he has the right. He says I suspect that you're not letting my granddaughter return to us with wrong intentions. Sourya asks Anandrao to not doubt Indrudu and Chandramma as they are taking good care of me.
Anandrao says I know about it that's why I'm scared of their intentions. He asks Indrudu and Chandramma to remember that thru can't separate Sourya from them. Sourya says they don't have that kind of intention and they are helping me so much to search for my parents so if possible thank them. Anandrao says he can understand the intentions of people. He announces they won't leave until she returns home with them. Indrudu and Chandramma get tensed. Anandrao gives money to Indrudu for expenses.
Deepa thinks to rule out her doubt in Sourya's matter by going to Indrudu's house with Karthik as Sourya has the habit of writing behind auto. Mounitha comes there. Deepa asks why she come again. Mounitha says she didn't come to argue with her and asks her to tell her if she knows any auto driver here like she knows Varanasi in the past. Deepa recalls Indrudu. She asks why she is asking. Mounitha says the question is not an answer to my question so tell me if you know any auto drivers or not.
Deepa gets suspicious thinking why Mounitha is enquiring about Indrudu. Mounitha asks her to answer. Deepa insists Mounitha to tell her why she wants to know about auto drivers. Mounitha gets irritated and says she wants to settle with Karthik by setting her up with an auto driver. Deepa slaps her for talking nonsense. She asks Mounitha to leave her place. Mounitha says I'm leaving but very soon I will expose all conspiracies.
The next day, Karthik thinks about Indrudu and Mounitha. Mounitha comes there and asks what's he thinking. She asks if she is still doubting her. Karthik says your every action is doubtful. Mounitha asks why he is doubting her and what happens to his love for her. Karthik says he can't love her seeing her behavior. Mounitha asks him to tell her what she did.
Durga comes there and tells Mounitha that he bought dum biryani roaming the city as she asked him. He asks Karthik to join them. Karthik refuses and tells Mounitha that her behavior is the reason for his change and leaves. Mounitha asks Durga why he is behind her. Durga says it's very less if you compare it with what you did to separate Deepa and Karthik. He says it's good Karthik is doubting us. Mounitha says her love will win. Durga says you won't win and at least bear 10% pain of Deepa and enjoy this biryani.
Karthik meets Deepa. Deepa asks if they can go to Indrudu's place. Karthik says it's not good to visit them immediately otherwise they may leave the city. Deepa agrees. Karthik says Indrudu is ignoring me so we need to plan it safely. Deepa tells him how Mounitha enquired her if she knows about any auto driver. Karthik thinks so my doubt is correct that Mounitha and Indrudu are one team. Deepa tells him she is scared. Karthik assures her he will bring Sourya to her. They search for Sourya.
Indrudu slaps Chandramma for sending Sourya with Anandrao. Chandramma says they will return and I can't deny Anandrao as he is Sourya's grandfather. Indrudu says they will lose Jwala if they behave recklessly and what if Anandrao takes Sourya forcefully with him? Chandramma asks him to search for Jwala. Indrudu removes the sticker from the auto and goes to search for Sourya. Karthik says we enquired auto stand people but no one knows about Indrudu and Sourya. Deepa says he may drive in another area. Karthik and Deepa decide to visit Indrudu's house.
Episode ends.
Precap – Sourya refuses to go with Anandrao and asks him to leave her. Deepa sees the car moving from their side. She tells Karthik that Sourya is in the car. Karthik and Deepa run behind Anandrao's car.