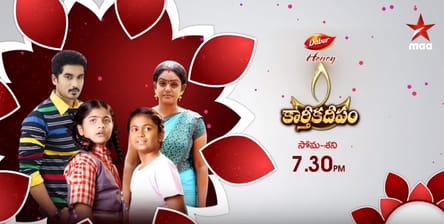 Karthika Deepam 6th August 2022 Written Update on TellyExpress.com
The episode starts with Swapna asking Soundarya why did you beat my about to be daughter in law. Soundarya says if she talks too much then she will also slap her. Soundarya says is this going to be your daughter in law. Soundarya shows the wedding card and says this is going to be your daughter in law and this marriage will happen at the fixed time this is final. Soundarya asks everyone to hear clearly and says Nirupam's marriage will only happen with Hima. Soundarya is about to walk away. Swapna calls Soundarya and says I am more stubborn than you I know how to stop this marriage. Soundarya tells Swapna she can do whatever she wants.
Prem asks Hima why did you call me is there any good news. Hima says I know what you are talking about we will talk about it later. Hima pleads with Prem to stop to this marriage. Prem agrees to it.
Anand asks Sourya why is she not taking anything while tea and tiffin are infront of her. He asks if she is angry on him. Sourya says I am angry on myself. Anand says Shobha came here to meet her but when he said she is not coming here. Shobha just left. Anand talks about Soundarya's house and asks if she has a chance can she take him to look for once. Sourya says there is nothing special in that house people are important. Anand says he atleast wants to live once there. Sourya thinks you are also part of that house. I am living in that house as a stranger but if I take you there I don't think how they will treat you so I am not taking you there.
Shobha says to Swapna that decorating has been started already. Swapna says thanks to her mom for reducing their budget and laughs at them. Nirupam comes and asks them to stop. Nirupam says to Shobha I love Hima I already told my mom about it. Shobha tells about Monica and Karthik. She refers to herself as Monica and him as Karthik. Shobha puts a proposal infront of Nirupam you are going to marry Hima right. If Hima tells me she is going to marry you then I will leave right now to USA. Shobha says let's go to Nirupam. Nirupam won't move. Hima won't tell this right. Shobha says she is best choice for you and asks him to marry her. Nirupam says to Swapna I came here because I thought you were not eating any food what is this and walks away.
Sourya thinks of what happened. Anandrao comes and asks what is she thinking about. Sourya says her life is like a small auto what is there to think about. Anandrao tells about her parents. Sourya says I am only great because of them I don't have any value. Anandrao says if you have asked anything I might have done I couldn't marry you with the person you want. Sourya asks not to talk about this topic. Anandrao tries to cheer her up but it is to no avail. Sourya says she is staying here just because they want her here and you want me to see this marriage it will also happen.
Satya and Prem talk about it. Prem thinks of consulting Satya about Hima. Prem asks Satya for an idea. Prem asks about Nirupam and Hima. Satya says we should not get involved between husband and wife and lovers. Satya walks away.
Soundarya asks Anandrao what is he thinking. Anandrao says we couldn't take away the pain from Sourya's heart. Soundarya says for some problems time will tell the answers. Nirupam says thanks to Anandrao and Soundarya. Nirupam says he is saying thanks because they supported him.Swapna and Shobha come with wedding cards and sees Nirupam taking blessings of Soundarya and Anandrao. Swapna asks for both Shobha and Nirupam to take blessings together. Nirupam asks what is she thinking. Swapna says I understood you but you didn't understand me. Your grandparents are not that great.
Episode ends.