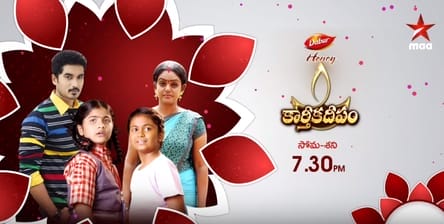 Karthika Deepam 6th June 2022 Written Update on TellyExpress.com
The episode starts with Shoba receiving her guest. She thanks Nirupam and Hima for coming to the party. She tells why Jwala didn't arrive yet. Nirupam asks why Jwala will come to the Doctors party? Shoba says she is your friend that's why invited her.
Nirupam says she may not come. Shoba insists on him calling her. Nirupam calls her and then reveals to Shoba that Jwala is coming. Hima suspects Shoba's intentions. Swapna arrives at the party. Shoba announces Swapna is a special guest at her party. Everyone claps for her.
Indrudu and Chandramma serve juice to everyone. They see Hima. Hima asks why they are here. They tell her they came to work to earn money. They see Swapna and think to avoid her. Swapna sees them and tries to warn Shoba. Shoba asks her to avoid them. She sees Jwala arriving at the party. She asks Swapna to enjoy what's going to happen at the party.
Jwala sees her uncle and aunt. She says them to not steal anything at the party. They agree. Jwala meets Nirupam and Hima. Nirupam asks if she become friend with Shoba. Jwala denies. Chandramma and Indrudu serve lemon water to Hima. That time power goes off and comes back. Shoba creates a scene saying she lost her necklace. Nirupam says it can be the work of a professional robber. He asks everyone to not move from the party. He calls for Police.
Police arrive at the party. Inspector says first they will search workers. Inspector finds Shoba's necklace in Indrudu's pocket. He asks Shoba if it belongs to her. Shoba agrees. Indrudu holds Inspector's feet and tells her doesn't know anything. Swapna says they are joint robbers. Chandramma says they give her trouble as she burned their Jwala auto.
Nirupam asks Jwala if they are related to her. Jwala agrees and tells they stopped their robberies. Nirupam says he is feeling irritated seeing her support for them. Hima notices a worker who's smiling. Inspector is about to arrest them. Hima stops them and asks Constable to know if the power cut is in everyone's house? Constable tells her a power cut happened in Shoba's house.
Hima slaps the person who smiles and tells him that he is recorded in Cctv. Shoba tries to say there is no Cctv but Hima doesn't let her reveal it. The person agrees that he did it. Hima slowly warns Shoba to manage it otherwise I will ruin you in front of Nirupam. Shoba slaps her men and asks the inspector to take them then she apologises to Indrudu for the misunderstanding.
Episode ends.