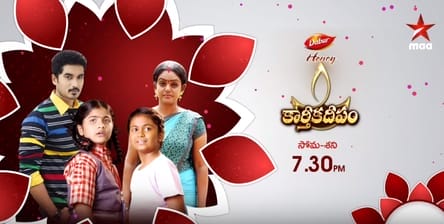 Karthika Deepam 7th November 2022 Written Update on TellyExpress.com
The episode starts with Karthik saying to Deepa that they have asked about Sourya and Indrudu but nobody here knows anything. Deepa says he might be riding auto in another street. Karthik agrees. Indrudu searches for Sourya. Sourya cries and says to Anandrao that she will not come with them. Ananadrao doesn't agree with Sourya's request saying the people she is staying with don't look good.
Sourya pleads with Anandrao saying she will not come with them and asks Anandrao to allow her to stay. Anandrao tries to convince Sourya to come with them. The car passes Karthik and Deepa who are walking on foot. Indrudu goes after the car. Sourya calls for Indrudu from the car window. Karthik and Deepa see this and get worried about Sourya. Karthik tries to go after the car but he couldn't catch them on foot. Karthik says to Deepa that they should go to Indrudu's house directly. Deepa agrees.
Indrudu overtakes Anandrao's car. Sourya gets out of the car and goes to Indrudu. Anandrao asks Sourya to come with them. Sourya asks Anandrao to stay where he is by swearing on herself. Hima pleads Sourya to come back with them. Sourya asks Hima to stop and says she is the reason for their parents missing and says to Anandrao that Sourya will only return to the house after she found her parents. Indrudu and Sourya leave from there. Indrudu convinces Sourya to leave from here saying they might be in Sanga Reddy. Sourya agrees to Indrudu's proposal to leave from here. Indrudu apologizes to Sourya in his heart for not allowing Sourya to meet with her parents.
Mounitha notices that Deepa's house is locked. Mounitha thinks where did they go? Durga comes and says they eloped. Mounitha says there is no chance for it. Durga says it is true and gives shock to Mounitha saying Karthik recalled his memory. Mounitha gets shocked hearing this and says there is no chance. Durga swears on her to convince Mounitha. Mounitha gets anxious hearing this.
Karthik and Deepa go to Indrudu's house. They notice that it is locked. Karthik asks the neighbor where did Indrudu go. The neighbor says they went out and they will be back after some time. Karthik decides to wait for Indrudu. Deepa asks Karthik to leave from here saying if they saw them from a distance they might escape. Karthik agrees with Deepa's conjecture and decides to come tomorrow in the early morning.
Anandrao and Hima talk about Sourya. Anandrao thinks to himself who is Indrudu and where did his confidence come from to stop their car and take Sourya away? Hima says he knows Sourya will go with them that is his confidence. Hima asks Anandrao now what should they do? Anandrao says to wait until Soundarya returns and then they will come and take Sourya from here. Hima agrees.
Mounitha thinks of what Durga said and thinks to herself if Durga said the truth or not. Mounitha thinks if Karthik recalled his memory then he would have killed her and then went away. Mounitha calls Karthik to find out the truth. Karthik doesn't pick up the call and worries what Durga said might be the truth.
Episode ends.
Precap – Karthik and Deepa to visit Indrudu's house and they get to know that Indrudu and Chandramma vacated their house last night. Deepa says to Karthik they knew that we would come that's why they vacated their house last night. Karthik agrees. Deepa searches and finds Sourya's photo. Deepa calls Karthik. Karthik comes to Deepa. Deepa shows the photo of Sourya's puberty function ceremony to Karthik. Deepa says it is her Sourya.