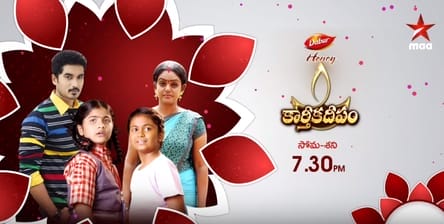 Karthika Deepam 8th August 2022 Written Update on TellyExpress.com
The episode starts with Swapna saying to Shobha to take blessings with Nirupam. Nirupam asks what is she thinking. Swapna says she knows what she is doing and says do you know what this is. These are the wedding cards of Nirupam and Shobha and invite them to the wedding. Soundarya asks Swapna about it. Swapna says the story has just begun. Soundarya tears the wedding card to pieces and throws it on Swapna's face. Swapna counters her.
Soundarya says Nirupam's marriage will happen with Hima only and nobody can stop it. Soundarya asks Sourya to come here. Soundarya reminds Sourya what she said last time. Soundarya questions Sourya about it and asks Sourya to tell Swapna. Sourya stays silent. After Soundarya asks her again. Swapna says there is no need to lie and says whatever you think will not happen what will happen I will show it to you. Swapna takes Nirupam away from there.
Soundarya talks with Karthik and Deepa photos about Hima's marriage. And she asks them to bless her. Soundarya tells the decorators to eat here. Hima thinks can't she stop this marriage. Hima thinks to herself if their parents are watching and says to herself that she will stop her marriage and make Nirupam's marriage with Sourya.
Swapna asks Satyam to follow her plan and if he goes to this house without her knowing then she makes him swears on herself.
Soundarya asks Sourya why is she looking like this. Sourya degrades herself infront of Soundarya. Soundarya says noone looks like that. Sourya says we can see that right. Soundarya shows a match to Sourya. Soundarya tries to convince Sourya for the match but to no avail.
Hima and Prem sit at a road side cafe where Anand works. Prem asks Hima about Anand. Hima doesn't tell about Anand. Hima asks how can we stop this marriage. Prem says he is also thinking about the same. Prem thinks he also has to get clarity why she is rejecting this marriage with Nirupam. Prem asks Hima about it. And Hima says she just doesn't like the marriage with Nirupam. Shobha sees Prem and Hima talking and thinks Prem is a fool for believing Hima. Shobha thinks of how to stop the marriage.
Nirupam tries to talk to Sourya. Nirupam prays for one thing if there is a next life he will help her love. Nirupam asks Sourya for assistance in his marriage with Hima as she is the only one who has the guts to cross his mom. Sourya agrees and says she is already tired seeing this drama and says if his marriage happens then these will stop. Nirupam praises her for agreeing.
Episode ends