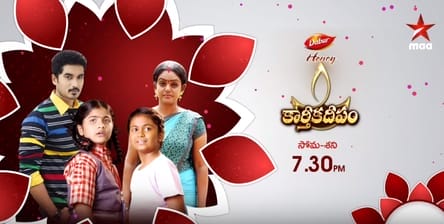 Karthika Deepam 8th November 2022 Written Update on TellyExpress.com
The episode starts with Mounitha worrying about where Karthik went. Mounitha sees Karthik coming and asks Karthik where did he go? Karthik asks Mounitha if Durga is not in the home and says to Mounitha there is no need for her to act. Karthik leaves from there. Mounitha decides to find out what is Karthik hiding from her?
Karthik and Deepa see that Indrudu's house is not locked and think they are inside. The house owner comes and says the people living in this house vacated yesterday night and says they can look in the house if they want. The house owner leaves from there. Karthik and Deepa go into the house to search for any clues.
Deepa notices the photo and calls for Karthik. Deepa shows the photo to Karthik and says it is Sourya. Deepa says Indrudu showed someone else when they came here and not Sourya for the puberty function. Karthik says to Deepa that when she bought the dress and ornaments they already figured out she is Sourya's mother and says they did all this to lay off suspicion from them. Deepa cries to herself as she lost Sourya. Karthik consoles Deepa and assures Deepa that it is his responsibility to bring Sourya to her.
Sourya asks Indrudu to which place are they doing? Indrudu says they are going to stay in a village close to Sangareddy. Sourya asks Indrudu how can they search for her parents when they stay here? Indrudu says they are going to stay here but ride the auto in Sangareddy and says they will look for them while riding the auto.
Deepa rings the temple bell continuously recalling what happened. Pandit comes and asks Deepa why is she continuously ringing the bell? Karthik stops Deepa and says to pandit that she is feeling sad. Pandit prays for Deepa and leaves from there. Karthik asks Deepa what is she doing?
Deepa says she failed to identify her daughter who is infront of her when she got a chance and feels guilty for losing Sourya. Deepa says she made a mistake. Karthik hearing this also feels guilty as he also didn't listen to her when she said Sourya is with them. Karthik says this might be their fate. Deepa says to Karthik that he will realise her pain after he recalls his memory. Karthik thinks to himself he already recalled his memory but he can't allow her to know thinking what Mounitha will do to her. Karthik comforts Deepa and takes her from there. Karthik thinks of where is Hima and thinks if she is with his parents or outside.
Sourya praises to Goddess in the temple. When the pandit asks Sourya for her parent's names. Indrudu says his and Chandramma's name. Sourya thinks of why Indrudu did that. Chandramma asks Sourya what she is thinking about? Indrudu asks Sourya if she is thinking about why he told the pandit their names when he asked for her parent's names. Sourya says yes.
Episode ends.
Precap – Karthik comments on Mounitha's behaviour of breaking Deepa's lock and staying inside Deepa's house. Mounitha says she came here to ask them what is going on? Mounitha asks Deepa where did they go? Deepa says to Karthik she is not in the mood to talk to Mounitha and asks Karthik to take Mounitha away. Mounitha asks Deepa if she will never leave Karthik. Karthik shouts at Mounitha and asks Mounitha who is not leaving whom. Mounitha hearing this question thinks Karthik recalled his memory.