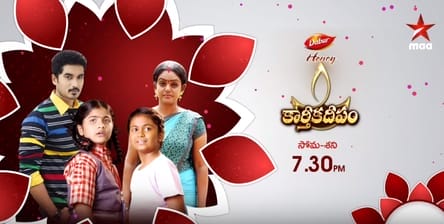 Karthika Deepam 9th August 2022 Written Update on TellyExpress.com
The episode starts with Soundarya putting Mehandi for Hima. Soundarya tries to talk to her but she stays silent. Soundarya sees Anandrao and asks him to come inside. Anandrao says why don't you put Mehandi for Sourya also. Soundarya asks Anandrao to call her. Anandrao says Sourya went out on a work. Hima cries. Soundarya asks why are crying. Hima says you know why am I crying but you don't listen to me and you are doing your own thing. Anandrao and Soundarya try to convince Hima to marry to no avail. Hima says she will marry Sourya with Nirupam. Soundarya says not to do anything stupid.
Swapna feeds Shobha food. They talk about it. Sourya comes and claps seeing them. Sourya satires on them. Sourya says for her about to be daughter in law her about to be mother in law is feeding. Swapna you are super. Swapna says what are you talking extra. Sourya while you are doing extra I have to do something right. Sourya sees Satya and also asks to join them. Satya thinks now Sourya might argue with them. Sourya feeds Shobha and treats Shobha like a child. Satya acts like he got a call and goes away from there. Sourya says you should not celebrate before anything happens.
Sourya says to Shobha that she cannot become this house daughter in law. Swapna says Shobha will be this house daughter in law. Sourya comments on them and says this marriage will not happen. Sourya says whatever she is saying is about to happen. Sourya says what she wants and while doing that she feeds Shobha the food. Shobha gets a hiccup and Swapna goes to get a bottle of water. Shobha says see this is relation between us. My marriage will happen. Shobha says I am getting hiccups Nirupam might be thinking about me. Sourya puts her hand on Shobha's face her face has curd all over her face because of it. Sourya warns Shobha saying her marriage will not happen only Nirupam's marriage will happen.
Anandrao and Soundarya greet the guests. Soundarya goes to bring Hima. Anandrao asks about Sourya. Soundarya says that Sourya promised Nirupam that she will make this marriage happen.
Nirupam thinks of what happened. Swapna asks Nirupam to get ready. Nirupam talks about it. Swapna asks Nirupam to marry Shobha instead of Hima. Nirupam says he will only marry Hima not anyone else. Swapna talks to Satya and says I told you to get him ready why didn't you do it. Satya says you heard what he said. Swapna gives a letter to Nirupam and says read this letter after reading this letter if you don't want to marry then I can't do anything. Nirupam gets up and shouts at Swapna.
Sourya goes on auto to some place. It is shown Nirupam gets ready to marry Shobha. Swapna talks to him and puts Kaala teeka on his cheek.
Episode ends
Precap – Hima will cry and Soundarya asks about it and Hima shows her phone to Soundarya. Sourya comes and asks what is this. Soundarya shows the phone to Sourya in it is a picture of selfie of Swapna and Nirupam who has gotten ready to marry Shobha. Hima says everything is over. Sourya says that marriage is not going. Soundarya asks what is she going to do. Swapna slaps Shobha.