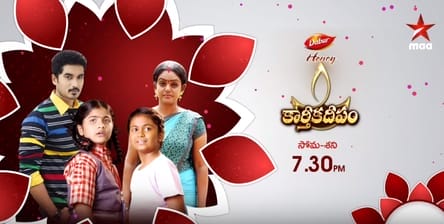 Karthika Deepam 9th January 2023 Written Update on TellyExpress.com
The episode starts with Deepa recalling what Mounitha said. Karthik recalls what Mounitha said to him. Deepa decides to think of how to send Mounitha away. Karthik thinks he should think of a way to stop Mounitha from coming here. Deepa calls for Karthik. Karthik comes and asks Deepa what happened? Deepa says she is scared for the first time in her life. Karthik asks Deepa not to worry about anything. Deepa says how can she not be worried as Mounitha's actions are right infront of her eyes. Karthik tries to encourage Deepa.
Deepa still worries about Karthik as she is going to die and shares her worries with Karthik. Deepa says Mounitha might put really prove that she is his wife in the court and take him to Switzerland. Deepa says if she was alive she would have taken care of Mounitha but she is going to die soon. Karthik asks Deepa not to think of anything. Deepa shares her grief with Karthik and says she wants to live with him for 1000 years. Deepa says to Karthik that they have to do something with tears in her eyes.
Soundarya prays to God to allow her to see Deepa and Karthik. Soundarya comes out of the house and sees that Deepa is right outside her house.
Soundarya hugs Deepa and asks Deepa how is she? Soundarya asks Deepa to come inside. Deepa says to Soundarya she will not come this time. Soundarya asks Deepa what is she talking about? Soundarya says to Deepa how much the children and she suffered with missing them. Deepa says she knows. Soundarya understands that Deepa and Karthik knew they were searching for them but they still hid from them. Soundarya questions Deepa to tell her what happened? Soundarya asks Deepa to take her to see Karthik. Deepa says she will bring him here. Deepa tries to leave but Soundarya stops Deepa and demands answers from Deepa to tell her what happened? Deepa asks Soundarya to come with her.
Charu Seela offers coffee to Mounitha. Charu Seela asks Mounitha what is she seeing? Mounitha says she is seeing Karthik. Charu Seela says to Mounitha that Karthik is looking good and there is nothing wrong with Mounitha loving him. Mounitha says yes. Mounitha asks Charu Seela why does she have these many photos of Karthik? Mounitha asks Charu Seela if she also wants Karthik. Charu Seela says she just took those photos casually. Mounitha argues with Charu Seela for a while and threatens to kill her if she thinks of Karthik.
Hima and Sourya search for Karthik and Deepa. Hima decides to buy choclate for Sourya to calm her anger. Hima asks Sourya if she will eat choclate. Sourya says she doesn't want to eat now. Sourya argues with Hima that she will eat when she wants. While they are arguing a thief comes and steals noney from them. Sourya and Hima chase the thief. Sourya and Hima catch the thief after running for a while. The thief pushes them away and escapes from them. Karthik catches both Hima and Sourya. Hima and Sourya feel elated seeing Karthik. They hug Karthik.
Episode ends.
Precap – Karthik, Hima and Sourya to see Deepa and Soundarya together. Hima and Sourya hug Deepa. Soundarya questions Karthik what is reason for hiding from them. Karthik thinks to himself that Deepa kept her word by making him meet Soundarya.