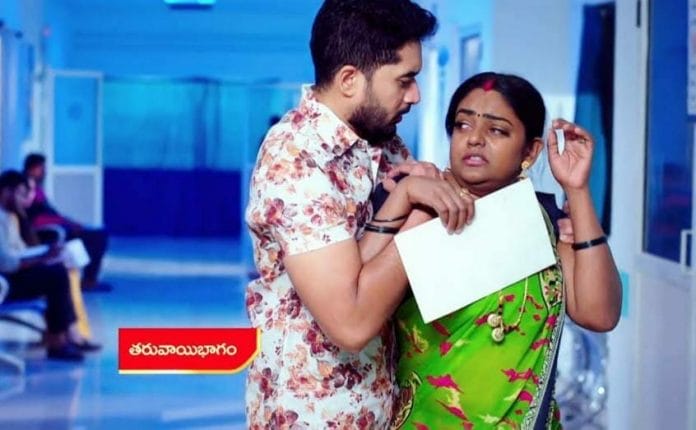 Karthika Deepam Upcoming Story, Spoilers, Latest Gossip, Future Story, Latest News and Upcoming Twist, on TellyExpress.com
Maa TV popular show Karthika Deepam serial is witnessing some major turning points. Currently, Mounitha decides to go to Hyderabad have glued the audience to the screens.
As reported earlier, Karthik is shown to be worried about Deepa in the hospital. The doctor comes and asks if everything is alright.
Karthik agrees and asks the doctor if they are going to do the operation tomorrow. The doctor says they are going to do operation after 2 days. Karthik tells her he is worried for his wife. Mounitha thinks of where did Karthik go.
Mounitha decides to go to Hyderabad. Mounitha calls Siva Latha and asks her to find a buyer for the boutique as she is going to leave Hyderabad. Siva Latha asks Mounitha to wait for a few days for Karthik. Mounitha says if she has a chance she will kill them.
Soundarya comes and asks Mounitha what is she talking about? Mounitha says she is talking about a guy who didn't give her the material. Soundarya confronts Mounitha about her strange behaviour towards her. Mounitha points a gun at Soundarya's head.
Mounitha says to Soundarya even after she came here without interfering with anyone they come and keep insulting her and says that's why she hit her on the head. Soundarya takes the gun from Mounitha and points the gun at Mounitha's head.
Mounitha pleads with Soundarya to not kill her. Soundarya asks Mounitha to come with her. Soundarya holds Mounitha at gunpoint and asks Mounitha to get in the car.
In the upcoming episode, viewers are going to witness Deepa will question Karthik why didn't he go out looking for Sourya? Karthik asks Deepa how can he go out leaving her in this condition? Deepa questions Karthik on why does he care so much for her and asks Karthik what does she mean to him?
Indrudu feels guilty about Deepa lying on the road unconscious looking for her daughter and says about it to Chandramma. Chandramma asks what are they going to do?
Indrudu decides to give Sourya to her parents and tells about his decision to Chandramma. Deepa is shown to be falling unconscious in the hospital and Karthik catches Deepa.
Will Soundarya find the truth? Will Indrudu be able to find Deepa?
All these questions will be answered in the upcoming episodes.
To know what will happen next in your favorite show, keep checking this space for new and exclusive updates.