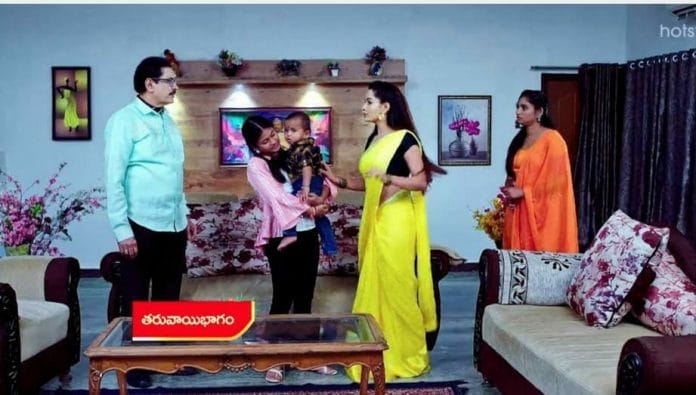 Karthika Deepam Upcoming Story, Spoilers, Latest Gossip, Future Story, Latest News and Upcoming Twist, on TellyExpress.com
Maa TV popular show Karthika Deepam serial is witnessing some major turning points. Currently, Karthik slaps Mounitha has glued the audience to the screens.
As reported earlier, Deepa requests Karthik for some money to do Pooja. Karthik hearing that she has trouble with money gives all the money he has to Deepa.
Mounitha takes the money from Karthik and questions Karthik if this is the reason that he sold the gold chain? Mounitha questions Karthik about his relationship with Deepa. Karthik gets angry and hits Mounitha.
Karthik says there is nothing like that and explains to Mounitha saying he is giving money for Deepa to do Pooja. Durga comes and asks Mounitha how are his shoes. Mounitha asks Durga why is he showing his shoes to her.
Durga reminds Mounitha she is the one who gave money to him to buy the shoes. Karthik says to Mounitha it is not right as she can give money to Durga to buy shoes but he can't give money to Deepa to do Pooja. Karthik asks Mounitha to give Deepa the money. Mounitha gives Deepa the money.
In the upcoming episode, viewers are going to witness Hima, and Anandrao will come to Mounitha's house. Hima says she will take Anand with them. Mounitha calls Karthik and asks him not to come to the house. Karthik asks why. Mounitha says Siva got into an accident.
Karthik and Mounitha are about to get in the car. Siva comes and asks Karthik where is he going? Karthik sees Siva. Karthik asks Mounitha why is she stopping him and who is in the house?
Mounitha says there is no one. Karthik pushes Mountain to a side and goes into the house.
Can Deepa and Karthik be able to get their family? What's Mounitha's next step?
All these questions will be answered in the upcoming episodes.
To know what will happen next in your favorite show, keep checking this space for new and exclusive updates.