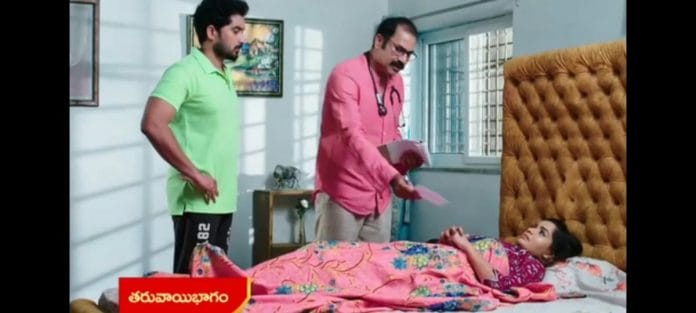 Karthika Deepam Upcoming Story, Spoilers, Latest Gossip, Future Story, Latest News and Upcoming Twist, on TellyExpress.com
Maa TV popular show Karthika Deepam serial is witnessing some major turning points. Currently, Karthik argues with Mounitha has glued the audience to the screens.
As reported earlier, Mounitha asks when did he go to Deepa. Karthik reveals to Mounitha that he went to Deepa last night and what happened there.
Mounitha starts arguing with Karthik about Deepa. Karthik says if she argues with him all the time how can he feel love for her? Karthik leaves from there in anger. Mounitha decides to make him love her whether hook or crook.
Anandrao, Soundarya, and Hima do Ganesh pooja and after that, they talk about Sourya. Hima asks Soundarya till when they have to be separated. Soundarya says to Hima till Sourya let goes of her anger against Hima.
Deepa talks to the Doctor about what happened today. The doctor says to Deepa that he wants to see Mounitha. Deepa comments on it. Mounitha acts like she is feeling ill infront of Karthik. Karthik goes to find a doctor for her.
Deepa sees Karthik looking for Siva to go to the doctor. Deepa introduces the doctor to Karthik. Karthik takes the doctor to check Mounitha. Karthik brings the Doctor to Mounitha to check her. The Doctor asks Karthik if he is a doctor or not?
Mounitha panics hearing this question.
In the upcoming episode, viewers going to witness The doctor will check Mounitha and prescribes medicines. Karthik asks how is Mounitha. The doctor says to Karthik he wrote some medicines for her.
Mounitha will see the prescription in shock and understands that Deepa sent the doctor. Mounitha gets out of bed and starts questioning the doctor by holding his collar. Deepa will think Mounitha found out. Karthik will ask Mounitha to leave the Doctor.
What's in the prescription? Will Deepa be able to expose Mounitha?
All these questions will be answered in the upcoming episodes.
To know what will happen next in your favorite show, keep checking this space for new and exclusive updates.