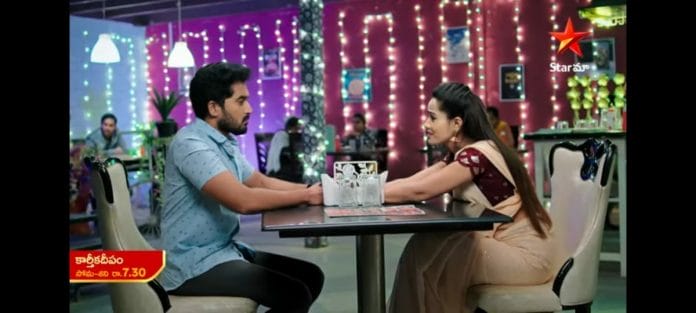 Karthika Deepam Upcoming Story, Spoilers, Latest Gossip, Future Story, Latest News and Upcoming Twist, on TellyExpress.com
Maa TV popular show Karthika Deepam serial is witnessing some major turning points. Currently, Karthik gets shocked by Mounitha's request has glued the audience to the screens.
As reported earlier, Karthik and Mounitha go to the restaurant to talk. Mounitha says to Karthik that she wants to give her heart to Deepa.
Karthik doesn't believe what she said and says he knows her that she is very selfish. Mounitha says there is also her selfishness in this decision and says her only wish is for her to marry Karthik. Mounitha says to Karthik that he can take her heart after marrying her. Karthik scolds Mounitha and leaves from there.
Soundarya gets to know from Deepa that Hema Chandra knew about Karthik and Deepa before and he lied to her when she asked about Karthik and Deepa. Hema Chandra encourages Karthik to tell the truth to his family saying it is better to make them prepared.
In the upcoming episode, viewers are going to witness Deepa will say to Karthik that she wants to live and asks Karthik if there is even a small possibility for her to live. Mounitha says to Karthik that she is ready to die for him.
Mounitha says he just needs to say yes and he can change Deepa's heart within an hour and save her. While all of Karthik's family celebrate Bhogi fire. Mounitha pours water over the fire and ruins their celebration.
Will Karthik be able to save Deepa?
Will Karthik agree to Mounitha's deal?
All these questions will be answered in the upcoming episodes.
To know what will happen next in your favorite show, keep checking this space for new and exclusive updates.