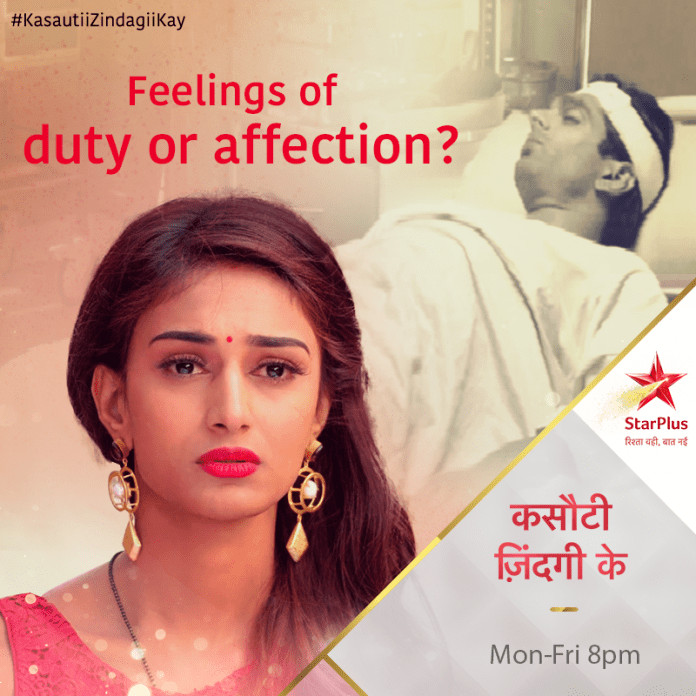 Today's episode starts with Mr. Bajaj saying he will tell everything to Mohini. Prerna says she will also come with her. Mr. Bajaj denies but Prerna insists.
Prerna gets a call from Shivani. Shivani tells to Prerna that when Anurag met with an accident instead of worrying for his wound he was just taking her name. Shivi tells doctor says Anurag is looking for someone who is close to her. She further asks Prerna to come and save Anurag else he will die. Prerna says she'll come. Mr. Bajaj says he'll take her to Anurag.
Nurse comes and asks Basu mates to wait outside. Mohini, Pooja and Anupam worries for Anurag. Anurag's health worsens. Anupam consoles Pooja and ask her to relax.
Mohini recalls his moments with Anurag and gets teary. Pooja goes behind Mohini. Mohini goes to Lord Ganesh and questions him for Anurag's condition. She says, a mother can bear anything in the world but not her children's pain. She pours her heart out to God and says she will not worship any God or him till he returns back her son to her. She says she will keep fast till Anurag gets well. Pooja comes to Mohini and ask her to come with her.
Pooja ask Shivani to tell her who did Anurag's accident. Shivani tells Mr. Bajaj's name. Pooja and Mohini stands shocked.
Mr. Bajaj tells to his aunt that he will be back soon. Mr. Bajaj's does the acting to stop him from leaving. He takes her to the hospital. Babaj ask Prerna to go to Anurag and meanwhile he will take his aunt for the checkup.
Prerna runs to meet Anurag. Rishabh's aunt tries to fill his mind towards Prerna but he gives a befitted reply to her.
Prerna comes running and Mohini ask her to stop. Prerna pleads her to let her meet Anurag. Mohini ask her to leave. Prerna further ask her to meet Anurag but Mohini refuses. Prerna gives Anurga's promise to Mohini and ask not to stop her from meeting Anurag today.
Prerna goes to Anurga and cries holding his hand. She asks Anurag to wake up. Anurag's finger shows a movement. Doctor asks Prerna to wait outside. He says to Prerna that there is good news but first he need to check him up.
Tanvi shares her worry with her mother and says Rishab will come to know about their fake plan once doctor will read the reports. Tanvi's mother says but her biggest worry is how to separate Prerna from Bajaj.
Doctor calls out for nurse. Mohini ask Prerna what she did with her son. She pushes Prerna and Mr. Bajaj catchesPrerna Mr. Bajaj asks Prerna is she ok? Prerna says yes.
Bajaj about to confront Mohini but Prerna stops him. Mohini ask Mr. Bajaj to take Prerna as she is ominous for her son. She further accuses Bajaj too. Bajaj stands shocked. (Episode Ends)
Precap: Mohini files a complaint against Mr. Bajaj. Mr. Bajaj's  aunt asks Prerna to make a distance from Basu family. Doctor informs Prerna that if in next 6 hours Anurag doesn't regains his consciousness than he will never be able to come back into his senses. Prerna stands shocked.