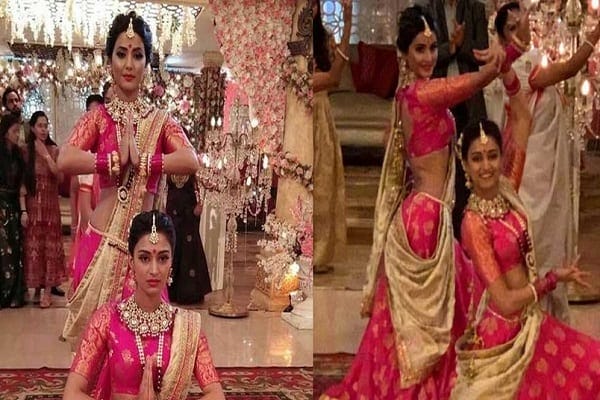 Star Plus popular show Kasauti Zindagi kay2 is currently witnessing Tapur's engagement party.
Now ahead in the story will see Prerna will give a helping hand in doing arrangements for the party. She will climb on the ladder to put flowers but will slip off and Anurag will catch her. Prerna will ask him to leave. Anurag will irritate her by saying don't she has any manner to talk to husband. Prerna will shout at him to leave her, as he doesn't have any manner. Anurag will drop her on the floor. Anupam will get happy seeing Anurag and Prerna together while Komolika will get angry seeing Anurag flirting with Prerna.
Prerna bangle gets stuck at Anurag's coat. The duo shares an eyelock. Prerna sees Vikrant and goes to him. Anurag gets jealous and komolika comes up with a plan to take an advantage of his jealousy. Komolika will bribe a waiter to spike the drink of Prerna and Vikrant to create a rift between Anurag and Prerna.
As reported earlier, the promo of the same is out too and in the promo it is seen Komolika insulting Prerna when she tried to help Vikrant. The drink falls on Vikrant and Prerna cleans it up while Komolika will try to put her down calling her characterless. Anurag comes to saves Prerna and shouts on Komolika. It seems Komolika plans will backfire but this will not stop here, as next Komolika and Prerna will engage in a riverting dance.
So, how excited you are for the upcoming do let us know in the comment section.
Additionally, for them who don't know yet- soon, Komolika, character played by the talented actress Hina Khan will mark her exit from the show. How much you will miss her watching on-screen, leave comment.
Stay tuned with us for more updates.