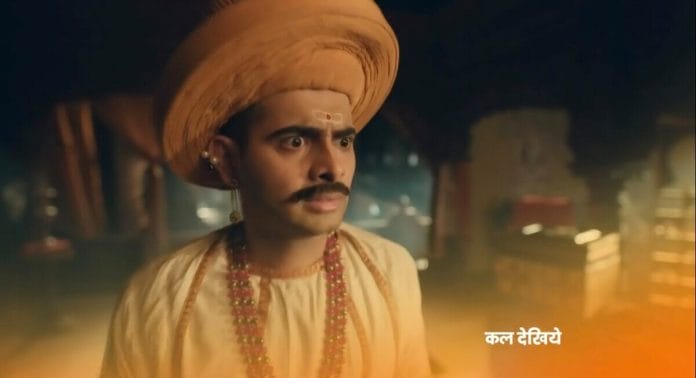 Kashibai Bajirao Ballal 16th August 2022 Written Update On TellyExpress.com
The episode starts with Kashi sharing about her wedding with Nanashaheb. She shows him her little bangles and vermilion box etc. She feels nostalgic and gets teary. Ganga says Kashi is still the same and why is she reminiscing everything now. Kashi replies because she is doing it for the last time. She has to let Baji marry Mastani. Ganga gets shocked to hear that and asks her doesn't she feel bad about it? How can she be so selfless for Baji. Kashi says sometimes we need to set the other person free and that's called unconditional love.
She has no choice left. Mastani gets into thinking what Kashi meant by warning her. Will she stop her wedding with Baji at the last moment? Matang asks her why is she look stressed? Mastani shares her worries and wonders if one of her soldiers got caught then her truth will be revealed to Baji. She tells Matang to check if any soldier from her side has been caught or not.
Kashi tells Surya that the first person he will inform about the soldier's recovery is her only. Radha asks Baji how is he feeling now? He says he is much better and now he is ready to marry Mastani. Radha says if he was ready to go to war then she should have been happier than now. Baji says he is always ready for war but right now he has to fulfil his promise to Mastani.
Radha contacts Surya and other warriors. She asks them if they are okay with Baji's wedding with Mastani and the only way to stop him is to send him to war. They will put Mastani in prison in his absence. One soldier says Baji is weak and he might die during war. Radha says if he dies like a true warrior that would be more respectful than marrying Mastani. She asks them to start the preparation. Kashi meets Baji and they both want to talk to each other.
Kashi says she can still remember the seven vows he took for her. She reminds Baji of them one by one. Baji feels upset as he couldn't become an ideal husband. Kashi says he decided to marry Mastani then she would like to free him from all those vows forever. He can't be loyal to both so he has to select only Mastani. Baji is shocked and says he didn't change at all and he can't lose Kashi. Kashi makes it clear that he has to end the romantic relationship between them by making her wear the nose ring with three pearls, he gifted her earlier. Baji makes her wear that with heavy heart.
Kashi gets the news of war and gets surprised. Surya says Nizam attacked their state. Radha says it would be beneficial for everyone if Baji leaves for war. He won't be able to marry Mastani as well. Kashi informs Baji about the war and the latter says Nizam is old then how can he attack them! Mastani comes there and gets upset to know Baji is leaving for war. Kashi says Mastani should get used to it as Baji will leave for war most of the time.
Baji says he thought he will give respect to Mastani but it won't happen for now. Kashi leaves and asks Surya later that what's the truth as she trusts him the most. He reveals it's Radha's plan to separate Baji and Mastani. Kashi says thats not good for Baji at all. She says Radha will stop him from going to war. Next day Mastani cries alone saying she can't bid good bye to Baji. Kashi comes to her and gives her a clue that the latter is also a warrior.
Mastani insists Baji to accompany him in war and Baji agrees saying she is an efficient soldier too. Radha gets stressed and thinks both of them should not leave together. Radha stops Baji from leaving and says that he still seems weak so he should not take risk now. Surya praises Kashi's intelligence in mind. Ganga thinks it means Kashi has done all this. Baji says he is not going then the wedding preparations should start now.
Episode ends
The episode starts with Baji's family asking the doctor how is Baji. He says he is still trying to figure out what happened to Baji. He is treating him but rest is in God's hands. Everyone gets worried hearing that. Mastani goes to meet Baji inside and Mahapurohit tells Kashi about Bitthoba idol which is in deep forest. People often fail to find the Idol but if someone has pure intentions then he/can find Bithoba idol. He suggests Kashi to go there alone for Baji's sake. Kashi agrees to do so. Mastani tells Baji that she won't let anything happen to him. Kashi goes near Baji and cries holding his feet. She says she will never stop loving him and he takes her name. Kashi says even in this state he is murmuring her name it means somewhere in his heart she is still there. He loves her too. She holds his hand and says she is going to find Bitthoba idol and till then he will take care of himself.
Matang tells Mastani about Bitthoba idol and the latter decides to go to forest to prove that her love is true for Bajirao. Mastani reaches the forest before Kashi and Radha tells Mahapurohit how Kashi will go there alone, Chima says he will send soldiers for her safety to which Mahapurohit says Kashi's faith will be her protection and its not right to take soldiers with her when she wants to prove her faith for God Bitthoba. Matang gives sword to Mastani for her safety. Kashi refuses to take any weapon saying her faith is her power and she believes in herself and God. She will go empty handed..
Mastani roams around the forest and Kashi too tries to find the right path of reaching Bitthoba idol. She walks barefoot. She finds one saint is practicing meditation. He stops her and says if she if searching for Bitthoba idol. She says yes and she doesn't have enough time. He says Bitthoba's idol shows up only when he wants to meet someone. If the person has done something without any expectations, he/she will find
Also Check: