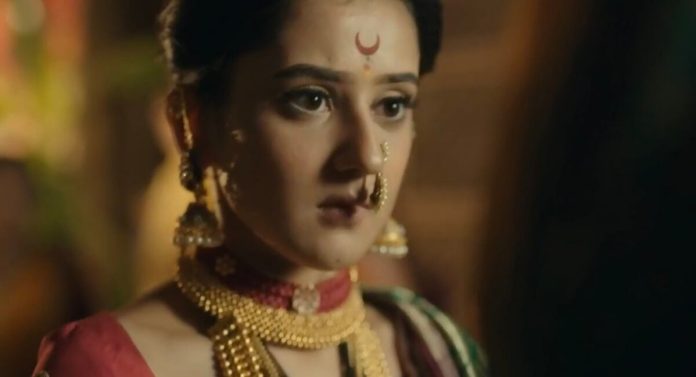 Kashibai Bajirao Ballal 22nd June 2022 Written Update On TellyExpress.com
The episode starts with Dhaima asking Radha whom she will save? the child or the mother? Radha chooses Kashi. Kashi cries and asks her why she chose her and not her child. Radha says she is Kashi's mother too and she can't let her die. Kashi says she is really angry with Bajirao as he is not with her in this crucial time. She decides not to forgive him. Radha calms her down but Kashi says this is her and Baji's first child, she asks Radha to save her child and not her. Radha promises her and Kashi says now she can die peacefully. But she will regret that she will not be able to see her child. Kashi struggles to breathe.
Mastani performs aarti for Bajirao and he feeds her sweet. Chatrasal says Baji made them happy. Baji says Mastani gave him new life and he will never forget that. Chatrasal says he wants Baji to leave with Mastani as she belongs to him now. Baji says he has to fulfil his promise he made to Kashi and Radha. He will leave for Puna alone. But he also promised Mastani that they will be together in next life. Mastani got a new life and won over death. So he will take her with him. Surya gets shocked to hear that. He thinks Baji forgot his moral values because of this cheap dancer. Mastani gets happy.
Kashi gets the news that Baji is returning back. It delights her and she gives birth to a boy child. Everyone celebrates the moment and congratulates her. Radha says Kashi's child saved Kashi today and Bajirao's return gave her strength. Kashi says her son looks like Bajirao. Radha says he is like Kashi and he will love his mother more than his father. Kashi says Baji will be very happy to see his child. She says he should bring many gifts for his son. Mastani sits inside the palanquin with Matang. Matang praises her beauty. Mastani says she can't believe her dream is getting fulfilled. She got her love. Matang says but she will face Kashibai in Shaniwad wada. Puna people obey her a lot.
Kashi makes huge arrangements for welcoming Bajirao. Ganga says she should welcome him by showing their baby. She adds Kashi was angry at him but she seems excited now. Kashi says she is still mad at him and she will name her child not Baji. Ganga says that's a small punishment, but Kashi should not talk to Baji and won't show her child's face to him easily. Kashi says she can't punish him like that as she didn't inform him about her pregnancy to him. She only forced him to go to Bundelkhand. Ganga teases her.
Matang tells Mastani about Kashi's power how she handles the responsibilities and she controls everything. She only told Baji to go to Bundelkhand when he didn't get ready. Matang asks Mastani does she think Kashi will accept her easily? Mastani says this time Baji fell in love and she feels everything will be alright. Matang says thats not easy like it seems. The palanquin stops in midway and Baji requests his soldiers not to talk about Mastani to Puna people. He wants to give the news to Kashi first. His soldiers tell him to trust them. There Bajirao's family waits for Bajirao and sees Surya is back. Radha asks him where is Baji. He says he has not the permission to tell her anything. But Baji has decided to stop in midway for some reason. Radha and Kashi get confused thinking why he did that.
Mastani asks Baji why are they here? Baji shows new place to Mastani where everything is present for her comfort and she will get everything for her living. She gets happy to see that and asks him but they were supposed to go to Shaniwad Wada. Baji says she won't stay there but she will stay separately. Mastani gets shocked hearing that.
Episode ends
Also Check: