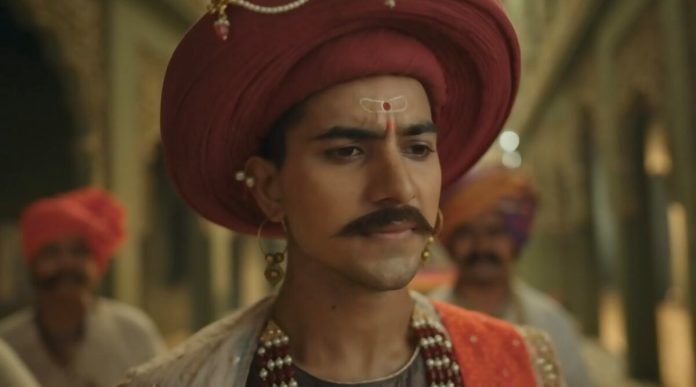 Kashibai Bajirao Ballal 23rd June 2022 Written Update On TellyExpress.com
The episode starts with Kashi getting a message from Bajirao which states he wants to meet her at an old temple. Radha asks her but he could have talked to her in the wada as well. Kashi says Baji wants to surprise her maybe and he did that before as well. She says she will also surprise him by showing their baby. She tells Ganga to hide their baby from Bajirao when she will be talking to him. She will show him their child on right time. Radha thinks Kashi's happiness should remain intact. Her suspicion should not be true.
Matang complaints to Bajirao that he is not treating Mastani like a princess but he wants to leave her in a forest alone. Why he took her to Puna then? She doesn't deserve this. Baji says Kashi is his first wife and his best friend too, she will be hurt knowing about the truth. He has to convince her first and for that Mastani has to wait. Mastani stops Matang from misbehaving with Bajirao. She asks him if he is sure about what he is doing. Baji replies he only loves her but he has to face Kashi too. Puna people trust him and he is like a role model for them and if anyone can convince them then that's Kashi. Mastani asks him if he is sure that Kashi will accept their love. Baji says she doesn't know Kashi, Kashi is really understanding and she never disrespects his choice. Mastani says then she is with him.
Baji asks her to wait and he assures her that he will be back soon after talking to Kashi. Mastani hugs him and says she will miss him, he says he brought an idol for her which will remind her of him. Mastani says she is being patient for years but since the time she saw him in real she can't get over him. She says she will lose her patience with each passing day. He says he will come to meet her. He leaves on his horse. Kashi reaches temple with her baby and tells Ganga to hide somewhere with the baby. Baji arrives on his horse and Kashi gets delighted seeing him. He comes to her and she hugs him. She says she waited to meet him since long and now the time has finally come. She is not feeling shy so she hugged him. Baji feels hesitant and tries to talk to Kashi. Kashi says she won't leave him that easily. She missed him a lot.
Baji folds his hands in front of God and Kashi asks him why he didnt go to Wada directly. She says he surely will gift her diamond or something expensive that's why he called her at this temple far away from the wada. She asks him to reveal the reason. She says she knows what he wants to tell her. He gets nervous and asks her who told her as he asked everyone not to reveal the truth to her. Kashi says he brought a small present for her thus he is hiding about it. He feels nervous and says what happened in Bundelkhand was not in his control. Kashi says why he is being scared as if he brought her sautan. He is at loss of words and she adds she knows nobody can win his heart except her. He says she should not have such high hopes about him.
Mastani waits for Baji and Matang says they won't wait here for long but he goes out to call someone. Mastani tries to stop him but he leaves. Kashi says Baji deserves to hear praises only and his personality is praiseworthy. He is about to reveal the truth and he hears his baby's cry. He gets surprised.
Episode ends
Also Check: