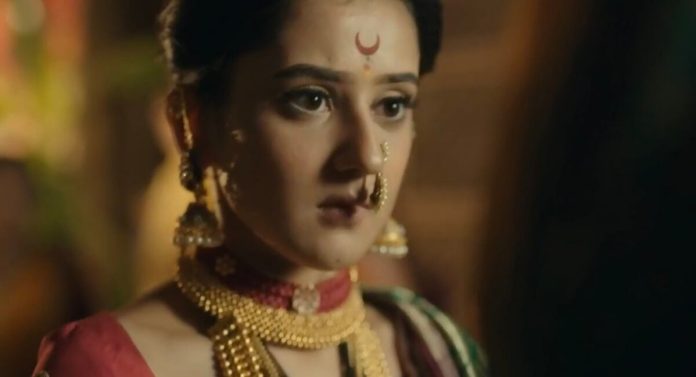 Kashibai Bajirao Ballal 24th June 2022 Written Update On TellyExpress.com
The episode starts with Baji hearing his baby's cry. He asks Kashi about that and she says he is small Peshwa. Ganga brings their son and Baji gets overwhelmed after holding him in his arms. He says she can't imagine what amount of happiness she gave him today.
Kashi apologises to him for not telling him about her pregnancy earlier when he was leaving for Bundelkhand. She didn't let him feel the joy. He says he can forgive her for everything today. it's not an issue for him. He gives her the chance to name their child. She gets surprised to know that and says she already thought about a name. She whispers the name in his ears and he says he chose same kind of name.
Kashi asks him what he was talking about? He feels nervous and doesn't tell her the truth saying he forgot about it seeing his son. Kashi says she is happy that he called her here and they spent a good time. She leaves with him for the Wada.
Matang finds them together and she informs Mastani that Baji is going to leave her for his first wife. Mastani says she believes in Baji and she is his wife too. She will wait for him outside until he comes back. She goes out to see if he is coming or not. Matang asks her to go inside as there might be wild animals who can attack her.
Baji receives a grand welcome while entering the wada. He asks Kashi if she has arranged all these. She says she has been waiting for him patiently since last seven months. She even saw dreams of him coming back to the wada on his horse. She can't tell him how happy she is.
Rakma and Kaveri tease Baji saying he has to praise his wife else he can't go inside. He has to confess his love, Baji recalls his love for Mastani and compares Kashi with moon and himself with earth. Rakma teases him saying earth's focus should not be on sun as moon focuses on earth only.
Baji stays quiet and a priest arrives, he tells Rakma to stay in limits as such jokes on marriage is not acceptable specially from a woman. Rakma says sorry to him. Surya thinks Baji should forget Mastani seeing his first child with Kashi. Baji thinks hope Mastani is not being impatient.
Chimaji asks Baji what he got except money from Chatrasal? As he took a lot of time to come back. Baji says he was bound to take money due to financial reasons but they should not be money minded. He learns that Radha wants to meet him and she is angry with him too. Radha tells Kaveri that they will not invite Anu for any celebrations but will invite Bihu only.
Baji tries to touch Radha's feet but she doesn't allow him. She asks him what he is hiding as the spark and confidence are missing on his face which comes after winning a war. He hides his emotions and she says Kashi is innocent but she is his mother and she can see something is bothering him thus he wanted to meet Kashi at the temple.
She adds she won't tolerate if he tries to hurt Kashi. Baji says Radha is changed as she is taking Kashi's side now. Radha says Kashi was always a good daughter in law but she never acknowledged her efforts.
Radha says but now she won't tolerate if Baji or anyone tries to give Kashi pain. He will live happily with his wife and thats final. Baji looks stressed. Matang tells Mastani to wait for Baji inside but she is adamant. Storm affects her and she stands there waiting for Bajirao.
Episode ends
Also Check: