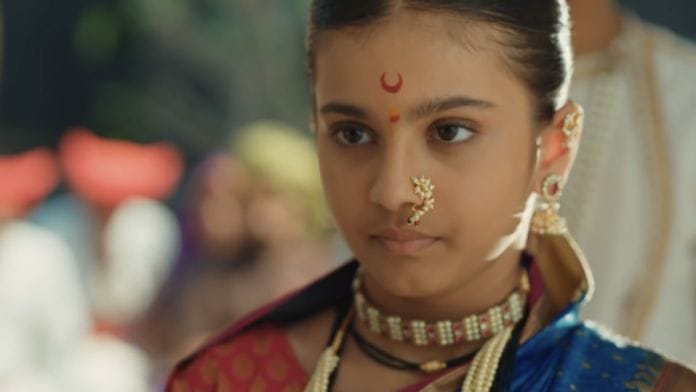 Kashibai Bajirao Ballal 4th February 2022 Written Update on TellyExpress.com
The episode starts with Kashi regaining consciousness. Radha questions Baji and Kashi how come they fainted together. Kashi says she won't lie, but she didn't want to go to Chaskaman and she wants to stay in Saswad. Radha lashes out at Baji for doing drama on such an important occasion. People are waiting outside for him and Kashi and praying for their safety but they don't know Baji drank a potion to prevent Kashi from going to Chaskaman. It's really embarrassing. Bajirao apologises for his act and Radha scolds Kashi for trying to ruin their family reputation. She says if Kashi died for her stupid act what would they tell her family. Her family would have misunderstood them. Radha asks Baji to understand his responsibilities and his wife cant be his first priority. The state people who believe in him should be his first priority. Radha tells Balaji that she never put herself in first position for her husband so why will she allow Baji to do that. Radha asks Baji and Kashi to apologise to the people waiting for them and Baji can't reveal the truth else they will laugh at him. People should not lose respect for him. Balaji says he will handle the matter but Bajirao says he did wrong so he will only apologise. Bajirao leaves.
Bhavani tries to talk to Radha but the latter tells her to take Kashi to Chaskaman. Bhavani says Kashi is childish and she will eventually know her duties, Radha should allow her to stay in Saswad. Shiu indirectly taunts Radha saying people here started liking Kashi and sending gifts as well. Kashi and Baji can't live without each other so Radha should not send back Kashi.
Bajirao thanks the people for waiting for Kashi and him whole night. He says he feels lucky to receive this amount of love. Bajirao then reveals the real reason why he drank the potion. He says he wanted to stop his wife from going to maternal home and Kashi also drank it avoid going to maternal home. Radha thinks Bajirao is making fun of himself. Baji says the people are allowed to laugh at him but he is serious. He adds he cares for his wife the way he cares for his state people. He can't stay anywhere else for many days as he starts missing his home and he comes back quickly. So he wants every soldiers to come back to their wives safely. He promises that he will fulfil duties towards his own people in future and will be a good husband to his wife too. He adds after marriage he started understanding people's emotions quite better. Radha gets irked hearing that. People cheers for Bajirao as they want a warrior like him who thinks from heart and brain both. Radha says Bajirao's speech was good but Kashi is making him weak and he should focus on fighting for his state. He can't keep drinking poison for his wife. She asks what does Kashi want? Kashi replies she will never become a barrier for Bajirao's success. She will always support him and will never let him fail in any mission. He will become the greatest warrior. Bhavani says Kashi has become mature in such a small span of time. They leave saying next time if Kashi wants she can go with them for Chaskaman.
A soldier informs Balaji that King Shahu wants to meet him tomorrow. Balaji agrees to go to Satara and the soldier asks him about how many soldiers will go with them and which way they will choose. Kashi suspects why King wants to meet Balaji all of a sudden. Radha shuts her up saying she doesn't need to know everything.
A lady comes to meet Bajirao to tell him an important news but the guards don't allow her to enter. Anu asks her to leave and Kashi says the lady can enter as she is part of their state. The lady tells Kashi something shocking and Kashi gets stunned. She informs Bajirao that Balaji's life is in danger. Bajirao gets shocked to hear that.
Episode ends
Also Check: