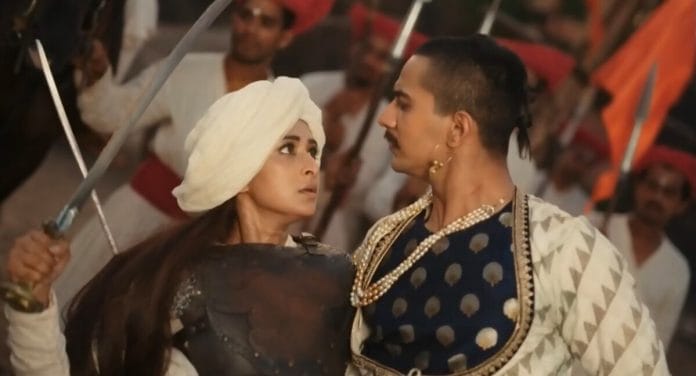 Kashibai Bajirao Ballal Spoilers, Upcoming Story, Latest Gossip , Future Story, Latest News and Upcoming Twist on tellyexpress.com

Zee TV show Kashibai Bajirao Ballal currently focusing on a track of Kashi being pregnant. She sends Baji to war to save Bundelkhand from Mughals. There Radha decides to reveal about Kashi's pregnancy to Bajirao. Will Baji meet Mastani during war? that will be exciting to watch.
Previously it was shown that Radha provoked King Shahu saying Kashi is going against his decision and sent Baji to Bundelkhand. She asked him to give wada's responsibilities to Chimaji. Kashi got delighted to receive Baji's letter and there Mastani gave some information to Baji so that it becomes easy for him to fight the Mughals. He told her not to take decision emotionally. She said that he has no idea what they have been through and now they have no choice but taking revenge from Mughals. She interfered during war and told Baji to wait as her parents became hostages of Mughals. She went to save them and Baji got impressed seeing her bravery. She gave him a taabiz as a present saying she might die while saving her family.
In future episodes it will be shown Kashi will go to Chaskaman and there her childhood friend Keshav will reach to execute Radha's plan. Mastani will face humiliation by Kayam Khan and Bangash Khan. They will call her illicit child of Chatrasal. Kayam will tell her to marry him else he will kill her parents. Mastani will agree but she will put forth a condition saying she wants to celebrate Holi in her mansion. Later Baji will be ready to help her save her parents. There Keshav will inappropriately touch Kashi. Krishna Rao and Shiu will support him so that Kashi loses her Peshwin's post. Afterwards, Baji will admit that Mastani is indeed beautiful and people didn't say wrong about her, Kashi will strongly feel something is not right.
How Mastani will win Baji's heart?
When will Baji learn that he will be a father?
To know what will happen next in your favorite show Kashibai Bajirao Ballal, stay tuned to this space.