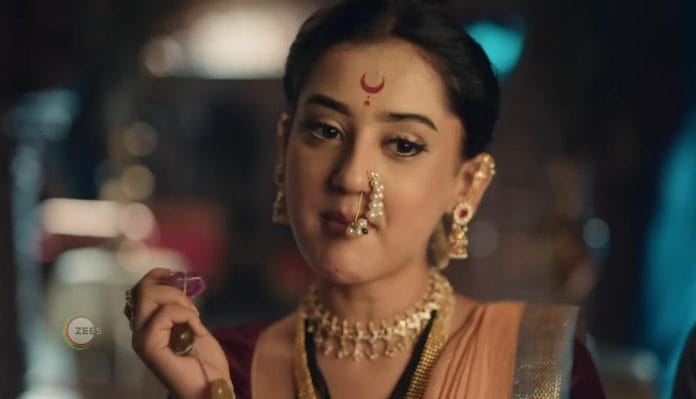 Kashibai Bajirao Ballal Spoilers, Upcoming Story, Latest Gossip , Future Story, Latest News and Upcoming Twist on tellyexpress.com
Zee TV show Kashibai Bajirao Ballal currently focusing on a track of Kashi being pregnant. On one hand she is trying to prove Keshav as a liar and on other hand Baji is in dilemma as he gets attracted towards Mastani. What will be the next twist that will be exciting to watch.
Previously it was shown that Kashi went to Chaskaman and there her childhood friend Keshav reached to execute Radha's plan. Mastani faced humiliation by Kayam Khan and Bangash Khan. They called her illicit child of Chatrasal. Kayam told her to marry him else he will kill her parents. Mastani agreed but she put forth a condition saying she wants to celebrate Holi in her mansion. Later Baji got ready to help her save her parents. There Keshav inappropriately touched Kashi. Krishna Rao and Shiu supported him so that Kashi loses her Peshwin's post. Afterwards, Baji admitted that Mastani is indeed beautiful and people didn't say wrong about her, Kashi strongly felt something is not right.
In future episodes it will be shown Baji will ask Mastani to confess her feelings to her lover. Later she will insist him to allow her so that she can fight from his right side. He will tell her to make him lose to prove her capabilities. He will taunt her and she will reveal how she got the tag of an illicit child and she has struggled in her life a lot. He will allow her to fight from his right side. Baji will slowly fall for her seeing her grounded nature and her bravery. Chatrasal will notice that too. There Kashi will fail to prove her innocence infront of King Shahu at first but later she will get a chance again from him. Baji will try to write down about his confused state. He will control his emotions but Mastani will hug him after winning the war against Mughals. During celebration Mastani will be called as illicit so she cant get acknowledged by Peshwa. Baji will side with her saying she is a brave warrior. Later Kashi will mistakenly break the stones and will sense something bad. Mastani will tie a thread around Baji's wrist.
How Mastani will win Baji's heart?
When will Baji learn that he will be a father?
To know what will happen next in your favorite show Kashibai Bajirao Ballal, stay tuned to this space.