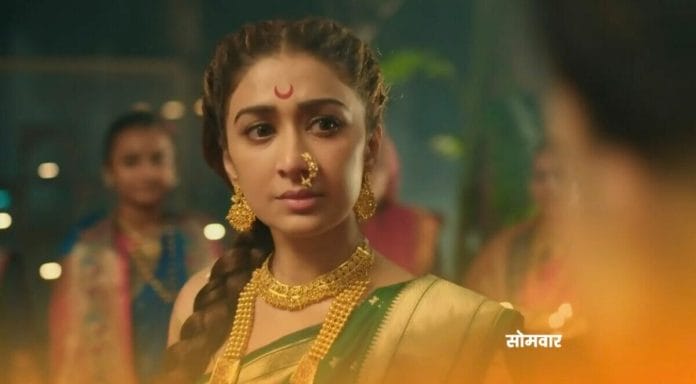 Kashibai Bajirao Ballal Spoilers, Upcoming Story, Latest Gossip , Future Story, Latest News and Upcoming Twist on tellyexpress.com

Zee TV show Kashibai Bajirao Ballal currently focusing on a track of Bajirao and Mastani's growing romance. The truth recently broke Kashi down. She accepted Baji and Mastani's relationship with heavy heart.
She also decides to let Baji leave the wada with Mastani but Radha and Chimaji plan to unite Baji and Kashi. Now what will happen next It will be exciting to watch.
Previously it was shown that Kashi confronted Mastani for the tricks she played in order to separate Baji from his family. Mastani did not admit at first, but Kashi's investigation made her confess her deeds.
Kashi chose not to tell anything to Baji about Mastani because he blindly trusts her, but she believed that Baji is not going to leave the wada, as he can't live without his family and he still has feelings for Kashi. Mastani was confident that Baji will choose her over his family.
Kashi got ready to give away her rights over Baji if he leaves with Mastani. Mastani got worried thinking her plan will work or not. Matang made a plan to take away Baji from his family.
There Radha tried to convince Baji to stop him from leaving. She told him to not publicise his family issues. She also told him to sit with Kashi for a puja.
Matang got suspicious seeing roses and jasmines for puja. She told Mastani that something is wrong for sure, as these are not the suitable flowers for puja.
In future episodes it will be seen Baji will give credits to Kashi for multitasking. He will bring smile on her face and she will say that she wants to keep Nanasaheb away from all the drama happening around.
Baji will say that Mastani has no one here except him, so he has to protect her. Kashi will tell him to take a wise decision. Matang will suggest Mastani to play a trick. Therefore Mastani will refuse to leave Shaniwad wada and she will tell Baji that she doesn't want to separate him from his son.
Baji will be grateful towards her. She will decide to go on a vacation with him for some days and he will agree. Kashi will understand her plan and will tell her that if Baji doesn't leave with her forever, she won't give away her rights.
Mastani will feel that Baji only loves her. During the puja Kashi and Baji will come closer and Mastani will feel jealous seeing them.Mastani will try to participate in haldi kumkum ritual, but the ladies will call her as a mistress who is not allowed to perform the ritual.
Mastani will say that she is Baji's wife according to rajputs wedding ceremony. Radha will object saying they don't accept such customs.
Will Kashi fail Mastani's plan?
Will Baji leave the wada?
To know what will happen next in your favorite show Kashibai Bajirao Ballal, stay tuned to this space.