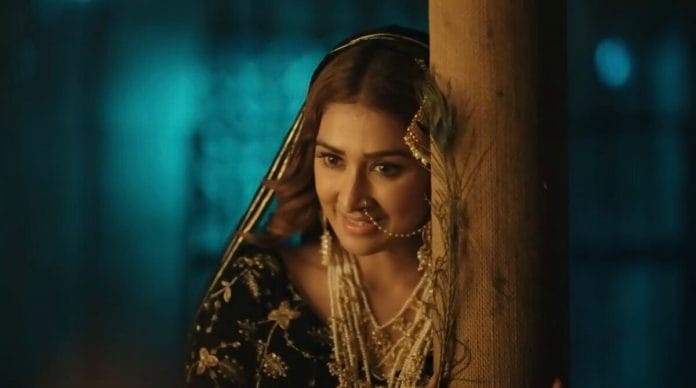 Kashibai Bajirao Ballal Spoilers, Upcoming Story, Latest Gossip , Future Story, Latest News and Upcoming Twist on tellyexpress.com
Zee TV show Kashibai Bajirao Ballal currently focusing on a track of Kashi being pregnant. She sends Baji to war to save Bundelkhand from Mughals. There Radha decides to reveal about Kashi's pregnancy to Bajirao. Will Baji meet Mastani during war? that will be exciting to watch.
Previously it was shown that Radha performed ritual for Kashi and asked her to wish for boy child. There Baji missed her and wrote letter to her stating he is missing her cooked dishes etc. Mastani annoyed Baji by reflecting light on his face using mirror. She asked him to eat delicious food made by her instead of eating leftovers. He thanked her without seeing her. Kashi sensed a danger for Bajirao when Debghar's King tried to kill Baji by burning him alive in the forest. Baji was unaware of that. Kashi sent Surya to inform Baji about the trap but Mastani saved Bajirao and his soldiers before Baji could enter the forest. Baji understood it's Mastani who saved him. Kashi prayed for him to Ganpati Bappa.
In future episodes it will be shown Baji will get Surya's letter and will understand that Kashi saved him and his soldiers from Debghar's soldiers but Mastani just took a step out of desperation and burnt the forest. They will reach Bundelkhand late and Baji will miss Kashi more. King Shahu will be present during Kashi's ritual and Radha will decide to use him in order to control Kashi. Later Bundelkhand people will come to welcome Bajirao. He will asks who informed them about his arrival. They will give him description of Mastani that she is King Chatrasar's daughter, who is a great warrior as well as the prettiest woman of Bundelkhand. Baji will not show interest but he will focus on the battle. There Mastani will eagerly wait to meet him and she will reach his camp to see him. She will reveal that she is mad for him since 16 years ago. He will catch her while she will try to leave. There Kashi will sense something bad.
When will Baji see Mastani?
When will Baji learn that he will be a father?
To know what will happen next in your favorite show Kashibai Bajirao Ballal, stay tuned to this space.