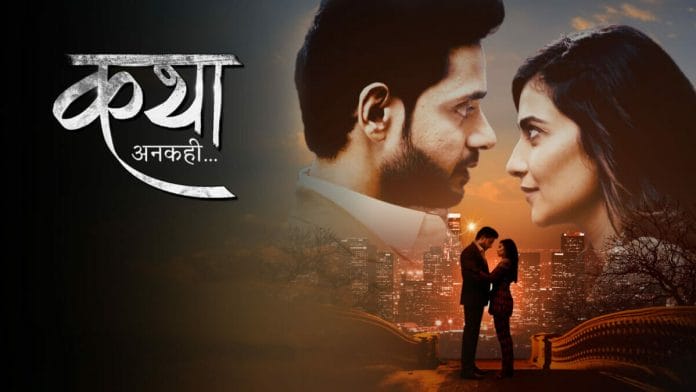 Katha Ankahee 17th November 2023 Written Update on TellyExpress.com
The episode starts with Katha looking at the designs, which are spread everywhere in the room and smiles. Viaan sees this from outside and enters the place. His presence catches Katha off guard. He prevents her from falling down. Katha apologises to Viaan for entering the room and also tells that the design looks nice. Viaan, thanks her. He then compares his Katha and Raghav with Sajahan, Mumtaz, and her friend. Katha says to Viaan that Mumtaz and her friend never met. Viaan tells it's their story, and he wants a happy ending. He then questions Katha for lying to Aarav and also reminds Katha about her never lying before. He also tells Aarav his son and assures Katha to give him a chance to make everything right. Katha cries hard. Viaan tries to console her by hugging, but Katha pushes him off, saying this isn't right. Just then, Raghav arrives, calling Katha. Katha gets tensed and tries to wipe off her tears.
There, Ehsan asks Teji about what's on her mind. Teji says that she regrets her past actions after seeing Katha as someone else's fiance and daughter in law. Ehsan says he requested Katha not to attend the party, yet Katha attended it. Vanya gets irritated and says both Katha and Viaan are soulmates. Meanwhile, Raghav notices Katha in tears and enters the room. Katha takes the design in her hand and lies to Raghav that she got emotional. Raghav praises both Katha and Viaan as an architect.
Meanwhile, Ruhi video calls Aarav and questions him for disconnecting the call earlier. Aarav scolds her for annoying him. He then asks Ruhi about Raghav's friends name, but the latter says she doesn't know. Here, Raghav praises Viaan's love for his love of life. Katha gets uncomfortable and asks Raghav to take her home, saying that she is tired. Raghav obliges. All three of them come out and meet Ehsan and Vanya. Ehsan informs Teji is tired, so she went to sleep. Raghav says even Katha is tired, so they are leaving. He then says to Viaan that he is understanding the latter's love for his love of life. He then insists Viaan tell his lover's name. Viaan says Katha. Katha and Ehsan get shocked while Raghav looks confused. Viaan then says it's not a Kahaani, but Katha also assures to tell Raghav his love of life's name later. Raghav promises to Viaan that he will help him reunite with his love of life and then leave with Katha.
Ehsan questions Viaan's action also scolds him. Viaan defends his act. Ehsan refuses to support Viaan and then leaves from there. Vanya says to Viaan that she will support him and hugs him. Later, Katha tells Pranav about everything that happened in the Diwali party and also worries about Aarav's reaction learning the party place truth. Raghav and Ruhi arrive there and tell Katha there is a surprise visitor for her. Aarav enters the house, surprising Katha. He also explains how he reached home earlier. Ruhi and Aarav argue then go inside.
Katha requests Raghav not to introduce Viaan to Aarav as she doesn't think Aarav will accept an outsider that soon. Raghav agrees to give some time to Aarav. In the office, Viaan waits for Katha. Vanya assures him that Katha will definitely come to the office. She also gets determined to give a gift for Viaan on Bhai dhooj despite Viaan attempts to change her mind. There, Ruhi gets emotional seeing Aarav's handmade gifts for her. They both share a hug. Meanwhile, Viaan waits for Katha in the office.
Precap: Katha says to Viaan that after so many difficulties, Aarav is slowly recovering, so she can't let him meet Aarav. Viaan comes to where Aarav is. Aarav goes crazy. Raghav takes him inside. Viaan gets stunned while Katha looks at Viaan with teary-eyed.
Click to read