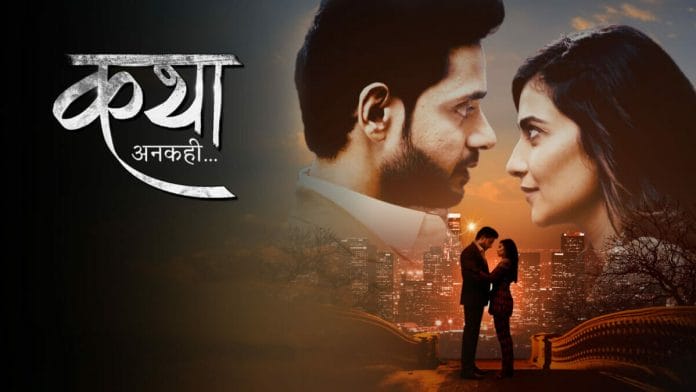 Katha Ankahee 21st November 2023 Written Update on TellyExpress.com
The episode starts with Katha saying to Pranav that she will try her level best not to let Viaan meet Aarav. Pranav asks her what if Aarav learns about Viaan through Raghav or his family. Katha says to him that Aarav is an most understanding kid. She further adds that they both are team, so together they'll make everything right. She also tells Raghav's family is good and they deserve happiness too so this decision is better for everyone, including Viaan. Pranav hopes everything works out the way Katha wants to be.
Later, Katha helps Aarav get ready for puja. She decides to talk to him about Viaan, so she asks Aarav to listen to her what she tells, then react, then makes him sit beside her. But Ruhi arrives there and takes Aarav with her to perform Bhai Dhooj. Katha gets upset. Meanwhile, Ehsan faces acidity problems, so Vanya mocks him for not having control over Desi noodles. Ehsan praises Vanya for understanding well. He then talks to her about Viaan's well-being, relying on him moving on, leaving his past in the past because Katha has also moved on. Vanya smiles without saying anything.
In Raghav's family, elders perform Bhai Dhooj. After that, Ruhi does the ritual for Aarav. She then gives gifts to Aarav. They both tease each other, which make the family members laugh. Aarav gives a return gift to Ruhi from Katha, but Ruhi demands a gift from Aarav. Aarav promises to protect Ruhi always. They both share a hug. Katha decides to take Aarav with her, but Yuvraj arrives there, so Aarav leaves with Ruhi while Katha performs the ritual for Yuvraj. Yuvraj blesses Katha. Katha gets happy.
In Raghuvanshi's house, Vanya performs the ritual for Viaan. Viaan gives her a gift. Ehsan says to Viaan about a prospective bride. Vanya also supports Ehsan's decision. Viaan refuses to give into Ehsan's request so Ehsan leaves from there. Viaan, thanks also, praises Vanya for supporting Ehsan. He also shares his pain of missing Aarav and wishes to meet him. Ehsan arrives there. Both Viaan and Ehsan go to the kitchen to look out the dishes. Vanya calls Katha and tells her her wish to meet the latter and Aarav. Katha says to Vanya about her plan with Aarav and Raghav's family about going to Juhu Sports Club. So she suggests her that they should meet each other the next day in the office. Vanya agrees.
Katha reaches the sports club exhibition with Raghav, Aarav, Ruhi, and Yuvraj. Raghav leaves the place. Yuvraj inquires Katha how she is working under Viaan and also handling the situation because Raghav's family also gets closer to Viaan. Katha shares her plan of letting Aarav know about Viaan's return soon. Meanwhile, Vanya convinces Viaan to visit the sports club exhibition on his own. Viaan agrees.
Yuvraj asks Katha to contact him if the latter needs his help and then leaves. Viaan arrives at the sports club, but both Yuvraj and Viaan fail to see each other. Aarav plays with Ruhi and other kids. Viaan and Aarav meet each other by accident. They both recall everything that happened. Viaan approaches Aarav, but the latter shouts at him and leaves. Katha sees Viaan and Aarav's interaction so rushes there. Viaan tries to tell Katha he didn't do anything intentional, but Katha stops him, saying she doesn't want both him and Aarav to get hurt and then leaves.
Aarav fumes in rage, so he breaks one of the kids' cricket bat. Katha tries to calm him down. Raghav talks to Aarav and calms him down. He then takes Aarav with him. Viaan sees everything from far and gets sad. Katha looks on.
Precap: Aarav promises Katha to forget the past. Later, Katha and Viaan get into an argument over Aarav. Viaan challenges Katha.
Click to read