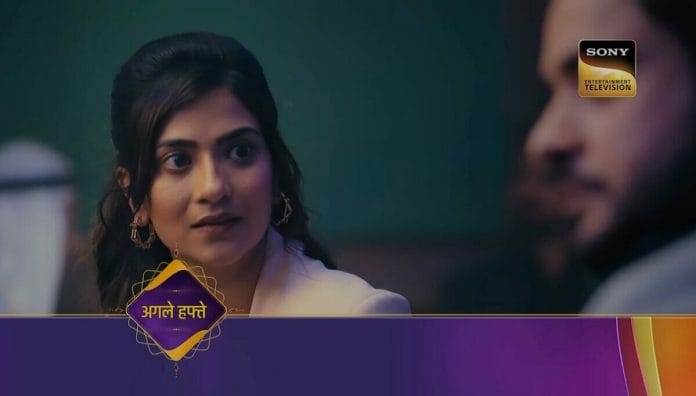 Katha Ankahee Spoilers, Upcoming Story, Latest Gossip , Future Story, Latest News and Upcoming Twist on tellyexpress.com

Aditi Sharma and Adnan Khan starrer Katha Ankahee is a newly launched Sony Tv show. This show is about how a widow also a single mother Katha doing multiple works to earn money for her Son Aarav's medical treatment who is diagnosed by a blood cancer and a business man Viaan who thinks girls are with a man for his money so it will be interesting to watch that what going to happen in the future episodes.
In the current track it shown that Katha taunts Viaan who stops and questions her where she is going which makes Viaan let her go. Meanwhile Kavita visits Aarav which makes the latter happy. Aarav then demands to meet Katha immediately which triggers an anxious attack to him.
Kavita worries but Nirija advices her to be strong like Katha. Dr.Amit treats Aarav and assures Katha the latter is fine. Katha gets worried when Falguniben doesn't answer her calls. Viaan comes out and sees Katha's restless behavior. He approaches her with determination to find what's Katha is hiding from him.
Dr.Amit advices the ladies to hide Aarav's anxiety attack from Katha so Falguniben assures her that Aarav is fine and asleep. Later Ehsan makes Katha a project head for their Rajasthan project infront of the clients which shocks and surprises her but gets upset when Ehsan informs they have to leave for Jaipur in three days.
Viaan interrupts and says Katha has to tag him to Dubai in three days to meet Abdali in person. Katha suggests for Video call conference meeting but Viaan refuses. Later Katha returns to the hospital and Aarav gifts her a monkey softy toy which makes her happy.
Other side Viaan's mother advices Viaan to marry a girl who isn't after his money which leads Viaan to shout at her. Viaan then wonders how yo rectify his mistake.
In the upcoming episode it will be shown that both Katha and Viaan will meet Abdali in Dubai. Abdali will praise Katha. He will then say this meeting could have happened via video call too but their efforts to do the meeting in person made him happy.
Katha will get shocked. Later Viaan will ask Katha to spend another night with him and offer her two crore. Katha will get furious.
Will Katha confront Viaan about his lie?
Will Abadali's revelation create more misunderstanding between Katha-Viaan?
All these questions will be answered in the upcoming episodes.
To know more about what's happening in your favorite shows keep checking this space.