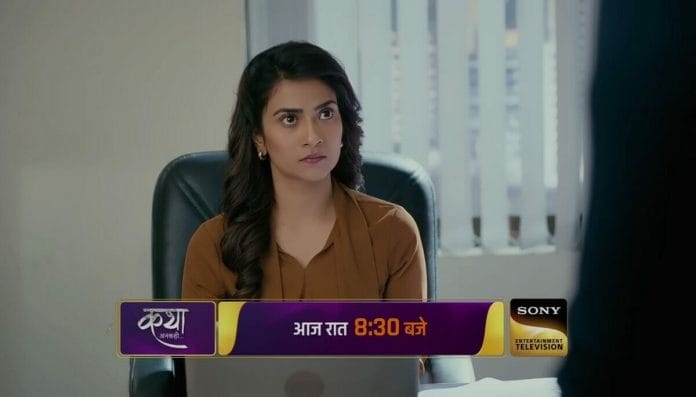 Katha Ankahee Spoilers, Upcoming Story, Latest Gossip , Future Story, Latest News and Upcoming Twist on tellyexpress.com
Aditi Sharma and Adnan Khan starrer Katha Ankahee is a newly launched Sony Tv show. This show is about how a widow also a single mother Katha doing multiple works to earn money for her Son Aarav's medical treatment who is diagnosed by a blood cancer and a business man Viaan who thinks women are with a man for his money only.
Now that Katha rejoins Viaan's company and Viaan tries to interact with her but Katha shuts him out so it will be interesting to watch that what going to happen in the future episodes.
In the current track it shown that Ehsan praises Katha for the way she is doing her works also tells her not to leave her project which is like her child for Viaan's anger. He then receives a call from Viaan and informs he is with Katha only. Katha decides to leave when Ehsan informs her Viaan is on her way to meet her but Ehsan pleads with her so Katha decides to stay.
After Viaan arrives both him and Katha remains silent so Ehsan expresses his helpless state to them and pleads them to forget their past and move on. Viaan tears Katha's resignation and asks her to return to company which makes Ehsan happy.
Katha tells Lollypop to stay in the house until she returns from office but ends up taking him to the office. Lollypop enters Viaan's cabin and Viaan plays with him and inquires whose it is. Katha confirms it's her's also apologises to him and requests to let her keep Lollypop in the office today alone as there is no one in the house.
Viaan agrees. Later during meeting Viaan tries to get Katha's attention by asking continuous questions but latter gives him a firm reply and ignores him.
He also senses Katha is getting uncomfortable when he goes near her which upsets him. Later Viaan informs Katha that he met Amrita and the latter looks on.
In the upcoming episode it will be shown that Viaan will ask Katha about how much time will take to complete a particular part of the work that related to the dubai project. Katha will say it will take seven days.
Viaan will order to complete it in two days and tells they have to interact discuss and communicate with one another more that will lead them to complete it in two days. Katha will get furious and glares at Viaan. Ehsan will stare at Viaan.
Will Katha fulfill the new challenge of Viaan?
Will Viaan confront Katha for not accepting Anirudh's offer?
Will Ehsan question Viaan for his weird behavior around Katha?
All these questions will be answered in the upcoming episodes.
To know more about what's happening in your favorite shows keep checking this space.