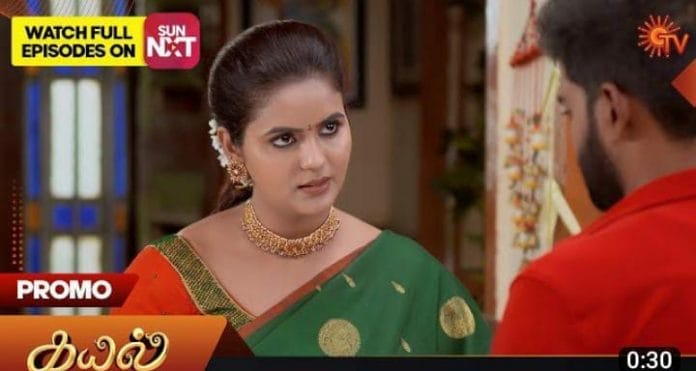 Kayal Upcoming Story, Spoilers, Latest Gossip, Future Story, Latest News and Upcoming Twist, on TellyExpress.com
Sun TV's popular show "Kayal" currently deals with Kayal trying to solve Devi's issues. Earlier its seen that Kayal failed to collect the money to buy Jewels. Now it will be seen that Anbu will be in trouble
In the previous episode we saw; Dharmalingam called the police and gave a wrong information to him against Anbu. Kayal celebrated Pongal with her family. Police reached there and searched their house.
Kayal inquired him to say the reason behind search warrant. Inspector informed to her that he got information that Anbu joined his hands with drug dealers from a mysterious person. Kayal revealed to the Inspector that Anbu working hard to become a police. He won't ruin his career by join his hands with them.
Inspector apologized to Kayal and left from there. Meanwhile, Kayal revealed to everyone that Dharmalingam planned this all to ruin Anbu's police training. Arumugam returned the drugs to Anbu and advised him to leave this illegal activities.
In the upcoming episode viewers will see; Dharmalingam will get disappointed to hear Anbu escaped from his trap. Meanwhile, Anbu will confront Daniel. He will scold him for smuggled drugs with the help of him. Daniel will assure him to free Anbu from him. He will demand Anbu to pay back his debt
What will happen next? Will Dharmalingam plot against Kayal? Will Kayal accept Ezhil's love?
In the upcoming episode will answer to our all questions stay tune with our space for more updates.