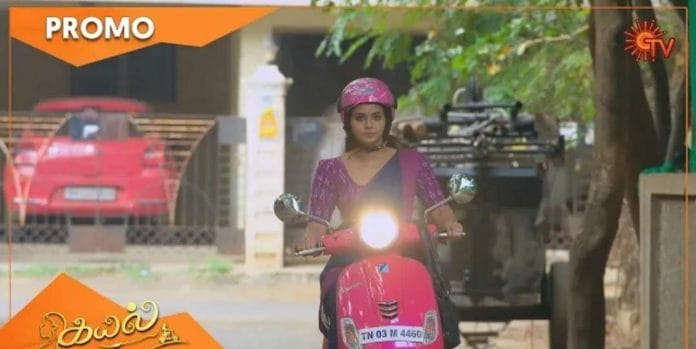 Kayal Upcoming Story, Spoilers, Latest Gossip, Future Story, Latest News and Upcoming Twist, on TellyExpress.com
Sun TV's popular show "Kayal" currently deals with Kayal trying to solve Devi's issues. Earlier its seen that Kayal failed to collect the money to buy Jewels. Now it will be seen that Dharmalingam provokes Gayathri against Kayal
In the previous episode we saw; Ezhil waited for Kayal. His friend assured to Ezhil that her scooty will puncher. As they expected it got puncher. Ezhil pretended to cross her unexpectedly. Kayal stopped him. Ezhil lied to her that he was checking his bike condition. He wasn't using bike for long. Kayal asked him to carry on than.
Ezhil asked his friend Akash to repair Kayal scooty and return it to her. Ezhil offered lift to Kayal. She accepted his offer and went on his bike. Aarthi noticed it and rushed back to home in tears.
Later, Ezhil dreamt like dancing with Kayal. Dharmalingam inquires Arthi the reason for her tears. She narrated to him what happened. Dharmalingam assured Arathi that he will take care of this issue.
In the upcoming episode viewers will see; Gayathri will ask Ezhil won't he marry Arathi? Ezhil will clear to her that he loves Kayal not Arathi. He won't marry her. Later, Dhanam will inform Kayal that Moorthy got 5 lakhs money from the financier with the help of Dharmalingam. She will get shock to learn the truth.
What will happen next?
Will Dharmalingam plot against Kayal?
Will Kayal accept Ezhil's love?
In the upcoming episode will answer to our all questions stay tune with our space for more updates.