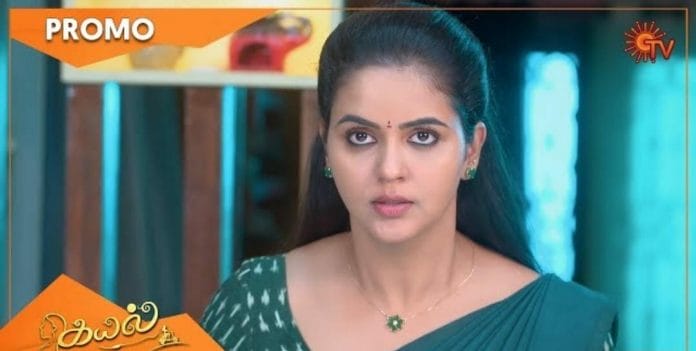 Kayal Upcoming Story, Spoilers, Latest Gossip, Future Story, Latest News and Upcoming Twist, on TellyExpress.com
Sun TV's popular show "Kayal" currently deals with Kayal trying to solve Devi's issues. Earlier its seen that Kayal failed to collect the money to buy Jewels. Now it will be seen that Kayal will challenge Dharmalingam to develop Moorthy's catering business
In the previous episode we saw; Kayal questioned Moorthy why did he started drinking again? His friend said to Kayal that Dharmalingam forced Moorthy to drink alcohol. He refused to drink but he demanded him to drink it. Kayal got furious hearing it. Later, Kayal brought alcohol. Few mens got shocked to see her holding alcohol.
Kayal drove to Dharmalingam house. She made Subrahmanyam drink it forcefully. He struggling to breath after drink it. Vadivu argued with Kayal for forced her son to drink alcohol. Kayal gave fitting reply to her.
Dharmalingam came there and argued with Kayal. She lashed out at him for forced Moorthy to drink. She complained that Dharmalingam stooping low to take revenge on them. She challenged him to develope Moorthy's catering business than him. She left from there.
In the upcoming episode viewers will see; Kayal will advise Moorthy to stop visiting Dharmalingam. She will tell him that he isn't trying to help him developing business instead he was pulling his leg down.
Moorthy will reveal to Kayal that he was helping him to get money in fiance. Later, Vedhavalli will provoke Devi against Kayal by saying Kayal demanded Moorthy to slap Vignesh. Meanwhile, Kayal will reach there.
What will happen next?
Will Dharmalingam plot against Kayal?
Will Kayal accept Ezhil's love?
In the upcoming episode will answer to our all questions stay tune with our space for more updates.