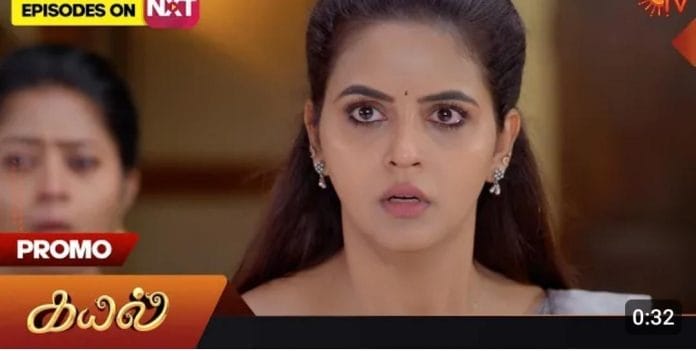 Kayal Spoilers, Upcoming Story, Latest Gossip , Future Story, Latest News and Upcoming Twist on TellyExpress.com
Sun TV's popular show "Kayal" currently deals with Kayal trying to solve Devi's issues. Earlier, it was seen that Kayal failed to collect the money to buy jewels. Now it will be seen that Anadi accidentally killed Prabhu. Currently they shows Kayal reveal the truth to Ezhil!
In the previous episode we see; Kayal informed Anand that she miss Ezhil. She want to meet him. Anand thought that she fell in love with Ezhil. Meanwhile, Kayal noticed Ezhil and runs behind him. He stopped the car seeing her. Kayal to confess her feelings to him.
Kayal expressed her feelings to Ezhil. She revealed the truth about Prabhu's missing. The inspector recorded everything in his mobile. Ezhil is determined to save Kayal. Kayal informs Kamatchi that she revealed the truth to Ezhil. Moorthy interrogated Kayal.
In the upcoming episode viewers will see; Kayal will inform Moorthy that Anandi passed in her exam. She will become a doctor. She shouldn't go to jail. She assures him that she will go to the jail on behalf of her. The inspector will frame Kayal. Ezhil takes a stand for her. He will show the evidence to them.
What will happen next? Will Dharmalingam plot against Kayal?
Will Kayal accept Ezhil's love?
In the upcoming episode will answer all our questions and stay in tune with our space for more updates