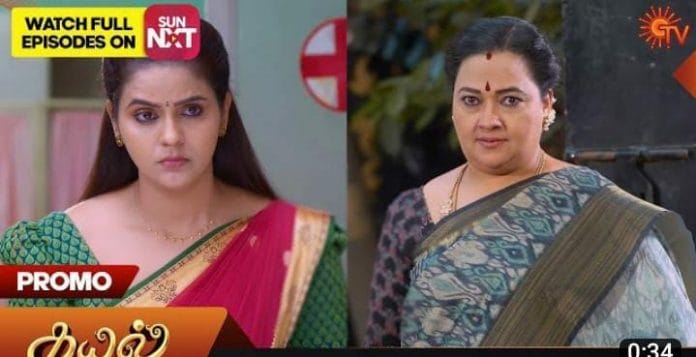 Kayal Upcoming Story, Spoilers, Latest Gossip, Future Story, Latest News and Upcoming Twist, on TellyExpress.com
Sun TV's popular show "Kayal" currently deals with Kayal trying to solve Devi's issues. Earlier its seen that Kayal failed to collect the money to buy Jewels. Now it will be seen that Kamatchi will be in danger
In the previous episode we saw; Kayal received a phone call from Moorthy. Moorthy informed Kayal that Kamatchi collapsed. She learnt from him that he admitted her in Gowtham's working place.
Meanwhile, Kayal rushed to the hospital. She was shocked to find Gowtham on duty. Gowtham decided to use Kamatchi's health condition against Kayal. Kayal fears the worst. Kayal shared her fear with her friend. She revealed to Kayal that Gowtham asked Vanitha to take care of Kamatchi.
He warned her to don't enter into her room. Kayal almost guessed Gowtham's motive. Meanwhile, Devi learnt from Dhanam about Kamatchi's state. Devi wished to meet her but Vedhavalli asked her to take auto.
In the upcoming episode viewers will see; Gowtham will demand Kayal to don't disturb Kaamatchi. Meanwhile, Devi will take auto to reach the hospital. Vedhavalli will set a goon to kill Devi.
Goons will follow Devi in their truck. Vedhavalli will think that Kayal and family members were busy in the hospital. Kayal can't able to save her sister from this accident.
What will happen next? Will Dharmalingam plot against Kayal?
Will Kayal accept Ezhil's love?
In the upcoming episode will answer to our all questions stay tune with our space for more updates.