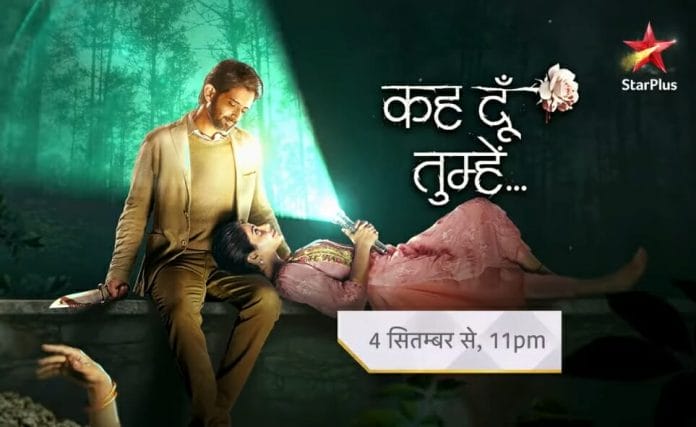 Keh Doon Tumhein 14th November 2023 Written Update on TellyExpress.com
Episode starts with the grand arrangment of Vikrant and Kirti's marriage. The tailor brings many expensive and exclusive sarees for Kirti's marriage. The arrangement makes Madhuri and her family members very surprised. The tailor starts to show many expensive items. He also gives them some golden jewellery since he was asked to do so by Vikrant. Though they hesitate to those valuable gifts, but the tailor insists them.
Here, Kirti also seems very hesitated to take all expensive golden jewelleries. She starts to recall their old memories when they started to fall for each other, cared for each other. From the very first day, Virkant used to take care of Kirti, gave the utmost respect, the love of Vikrant makes Kirti overwhelmed. She questions herself whether she really deserves this valuable love of Vikrant. Meanwhile, Dev appears suddenly from no where and requests Kirti not to marry Kirti, he doesn't want to see Puru with that giant. But Dev fails to convince Kirti and asks him to leave the spot. The torture makes Kirti more puzzled and tensed. Kirti asks him to show the proofs behind his accusation.
In spite of Kirti's deny, Dev firmly says Vikrant is not an innocent, as he really cares for Kirti and Puru, he here came to warn Kirti. She couldn't able to digest the assumption of Dev, but emphatically asks him not to interfere in her personal life. Though, Dev has given the divorce Kirti, but he really wants Kirti and Puru to be protected. Failed to fathom the truth, Kirti asks him to leave the matter.
Vikrant calls Yadav why did Dev come in the police station, when the case has closed. Yadav doesn't know why did Dev reach the school in spite of his job transfer. Vikrant tries to assume the motif behind Dev's action, but Yadav couldn't able to give any extra or new information. But after a while, Yadav calls Vikrant again and informs him that Dev met a student, Janhavi who saw the murderer of Ritu, when she was being killed,
Janhavi is asked to come in the back gate of school since she is requested to give her statement to the magistrate office. Dev has been waiting in the back gate, but still Janhavi has not come there. He tries to reach Janhavi through call, but he couldn't able to connect Janhavi, which makes him utterly tensed and puzzled. He even goes to the school to know about Janhavi, he also fears of Vikrant has done something mischievous with her. Suddenly, Vikrant comes towards him, and Dev stops the car of him. Checking the car, Dev couldn't get anything, but he fiercely threats him that he will prove Vikrant a murderer sooner or later.
Episode ends.
Precap : In the next morning, Kirti will be asked to exchange the ring with Vikrant as she didn't give the ring to Vikrant. She will happily follow the instructions of Madhuri and Aau. All the family members will seem joyous and overwhelmed. On the other hand, Dev will stopped by some police and will check his car. They will find something very mysterious and shocking.
Click to read