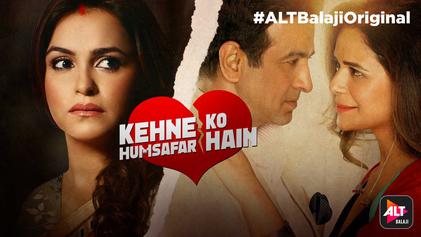 Kehne Ko Humasafar Hain 26th March 2020 Written Update on Tellyexpress.com
Vaani comes to know about Rohit and Ananya ,how will she Poonam and Nikki react to this?
Rohit and Ananya are spending time with each other where Ananya casually tells him that her friends was asking her where she was , to which she says that she was busy with work cause she can't tell them that she was living her best moments. Rohit apologizes Ananya that cause of him she cannot share her best moments with anyone .
Later Vaani asks Rohit what was he doing to which he replies he is making hot water bag as her mom wasn't keeping well as she is getting old . Vaani interrogrates Rohit about Ananya and tells him that she texted him I love you too ,that is said when he texted I love you. She fumes with anger and tells him that she is not a kid and understands everything. She tells him that she is hurt and leaves . Poonam questions Rohit about Ananya and askes him to stop all this . She reminds him that he did this same mistake 6 years back also . She warns him to keeps all his matters away from her daughters as they have grown up now. She tells him that Nikki counts him super dad and how will we face them. Rohits gets Ananya's call and he ignores
Later, Poonam and Rohit reminisces their moments with their daughters. Poonam throws the earrings at Rohit and leaves the room. Next Morning Cherry asks Ananya about earrings and is interrupted by the yoga teacher . She tells him that she has so many problems and gets the permission to takes rest. She asks Ananya to accompany her . Cherry tells Ananya that she and Rohit have fixed yoga time,he comes spends time and leaves. Cherry further insist that after getting rebooted Rohit leaves to his another world keeping Ananya alone . She tells her that she is just a fix for him and advices her to withdraw some privileges from him and see whether he comes or not.
Nikki and Vaani are fighting with each other which is solved by Rohit and Poonam. Nikki complains that Vaani has taken her bed and now is been asked to move out . Poonam sorts the matter and tells Rohit about his medicines after Rohit leaves Vaani asks Poonam that does she have a self respect or not on her husband cheating on him to which she replies that marriage is all about adjustments and many things need to be overlooked. Vaani exclaims that their generation might be okay with the word generation but for them its just a slang.
Ananya at her work place is praised by Khanna for her work. She gets a call from Rohit but doesnt pick. Later that night, Cherry ask Ananya how can she manage work space and yoga to which Ananya answers self discipline. Ananya goes to get drinks and takes a dig at her friends that they haven't discussed about her ignoring Rohit the entire day.
Rohit comes to meet Ananya and tells her that he made more them 25 calls. To make a conversation he asks Ananya that they need to change the sofa covers. Ananya makes him realise that everything in their house has things of Rohit but Rohit has nothing with him which has presence of Ananya. Rohit removes a coin and tells her that this was thr first gift she gave him and this makes him feel their presence together. This coin stays with him forever. They hug each other
Later Ananya asks Rohit to end their relationship as he has to leave for home with a guilt in his mind . She is just a 3 year old Dirty secret which he cannot reveal and asks him to end their relationship. Rohit reaches home and congratulates Nikki fot getting good marks and gifts her with a present. Poonam tells Rohit that he knows so much about girls . They need to take them for a outing also they need to find a solution for Vaani and Aarya's relationship. Meanwhile Ananya finds out that Rohit took the coin with him which she told to keep it with her . Rohit tells Poonam that he loves Ananaya and cannot leave her
How will Poonam react to this confession made by Rohit?