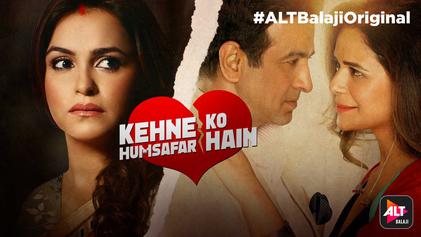 Kehne Ko Humsafar Hai 26th April 2020 Written Update on Tellyexpress.com
Poonam says that she should leave and she respects her opinion but not to give this advice to Bani. Ananya gives her green tea and Poonam thanks her and goes. At home Bani asks Nikki to bring hairdryer for her, she goes and Bani gets Arya's message.Nikki goes to Rohit's bathroom and finds the pregnancy test kits and shows it to Bani. She gets a bit insecure thinking about Rohit and Ananya trying for baby. Bani tells her that they will always remain babies for Rohit. Cherry waits for Harry in Café and he comes. They order for coffee and Harry asks her what she does. She tells him that she is a stylist. He casually says that she looks more like a model, Cheryl feels like he thinks she is brainless and feels low and leaves.
Harry tells Vandy and Ananya about what happened in Café. They say that Cherry is not like this, he says that she might be having self esteem issues and they should help her out. At supermarket Poonam and Abhimanyu cross paths. He tells her that they met here for the first time and she says she has a good memory. He comes close to her and tells that she is also attracted towards him, she goes speechless for a moment but then denies. She says that she is not a 22 year girl who will fall for his flirting. He says he will flirt when he gets chance and Poonam says something and goes.
In office Rohit shouts at the person in whose company he had invested money and asks him to give his money back.Ananya comes home and takes the pregnancy test kits.Ananya has dinner with Bani and Nikki and tells them that he is going to get late. She asks them if she can take them for lunch and they agree. Then they start talking about their favorite restaurant and how Poonam used to crave for the food there, they do that talk purposely.Bani asks Ananya how old she is and Nikki goes. Ananya says to Bani that she can ask her directly and that she and Rohit are trying to have a baby but she is not getting pregnant. Bani says that she should give it some time and she will get pregnant.
Ananya looks at her and Bani is surprised at what she just said and leaves. Ananya is seeing her laptop and happily tells Rohit that she is doing booking for Paris. He says that they can go after 2 months as the expenses this month are a lot. She says that his work will go on and she will pay for Paris and she can only get off this month. She says that they are getting business class tickets really cheap but Rohit says that they should take first class instead. Later he is stressed that he has issue of money in his office and thinks that he should tell Ananya that they can't go for the trip now.
Ananya tells him that she is going for lunch with Nikki and Bani and asks if he can come but he says he has lot of work to do. She tells him that she is on the list of top ten designers in India and thanks him for supporting her so much.Rohit goes to office and his employee tells him that clients are repeatedly calling for money. Poonam comes to meet him and apologises for what she said to him regarding Bani. She sees that he is stressed and asks him if evening is fine. He takes her to his cabin and tells her that he had invested in a construction project and now his and client's money are gone.
Rohit asks Poonam not to tell anyone and even he has not told to Ananya. Poonam says that he should not keep secrets from Ananya. He says that she was very happy so he couldn't get the right time to tell her. He tells her that it's 15 crore loss and Poonam suggests her to sell the farmhouse to get money. She tells him that they can easily live in an apartment. The episode ends.