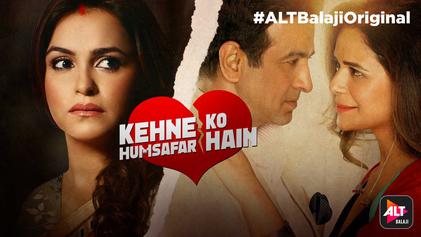 Kehne Ko Humsafar Hai 7th April 2020 Written Update on Tellyexpress.com
KEHNE KO HUMSAFAR HAI: ROHIT'S TRUTH COMES OUT IN FRONT OF POONAM
Rohit tells Ananya that they can marry in the temple right now and later make it official. Poonam asks Gurinder about Rohit and he tells that Rohit has gone to office. Meanwhile, Poonam drops Rohit to the farmhouse after getting married. Arya and his family arrive and Rohit comes behind them. Poonam sees him and tells him not to go anywhere till the marriage. Bani tells Arya that she is not going to change after marriage and teases him.
Ananya tells her friends that she got married to Rohit. They start making new stories and tease her while she blames them for this madness saying that they showed her the Facebook posts and she landed at his house. Cherry asks for a celebration and Ananya says that she is feeling happy and satisfied and asks them not to tell anyone about this. Gurinder's wife tells him to convince Rohit to withdraw the divorce but he asks her to not meddle in between.
Sheena asksGurinderfor a dance and he goes with her while his wife receives a call. Bani and Arya rock the dance floor while other family members enjoy themselves and dance together. Sheena tries to trick Gurinder and be friendly with her. He goes to get a drink for her when his wife comes and taunts her in drunk state. Sheena praises Gurinder a lot which makes his wife jealous and she unknowingly about Rohit getting married to Ananya.
Sheena gets shocked. Gurinder asks Rohit about the same and says that his wife told her. While Ananya comes to know that Cherry told her brother about this and he told his wife which lead to spreading of the secret. Sheena takes Poonam aside and tells her that Rohit got married to Ananya when he was missing for sometime. She gets shocked while Nikki calls her for ring ceremony.Bani and Arya get engaged and Poonam tends to fade so Sheena takes her inside.
Rohit goes to talk to Poonam but she is heartbroken. She is angry and says that she sacrificed her career and family for him but he left her. She asks him to leave immediately to which he says that there is a festive mood in the house. She says that he never wanted Bani to get married so he shouldn'tbe concerned and that she will handle everything.
She gives him the necklace back and goes out of the room. The episode ends here. It will be interesting to see what happens next.