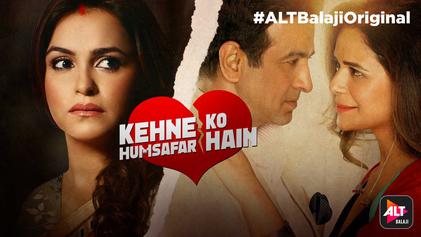 Kehne Ko Humsafar Hain 30th March 2020 Written Update on Tellyexpress.com
Rohit asks Poonam if she is going somewhere.Rohit's mom taunts her and asks her to get her face right. His friend asks him to come quickly for the wedding and he says he is reaching. He asks Poonam if she can come to which she replies that she will come. Meanwhile Ananya's friends try to calm her down as Rohit is not picking her phone.
Banishouts at Nikki for spoiling her dress but Nikki is upset and starts crying feeling that Rohit will leave them.Bani tries to console her and he overhears them. Whole family goes for the wedding and Jassi asks Poonam why she looks so down. She says she is just a bit unwell. Nikki asks Bani about the other woman in Rohit'slife and decides to find her.Ananya arrives at the same wedding unknown that Rohit is also there.
Nikki and Bani stock Facebook to find Ananya.Ananya accepts the friend request on Facebook and Nikki calls her but she doesn't pick up. Later she goes to pick up the call when her friend sees Rohit with his family. Rohit sees Ananya and she also sees him but he avoids her. Everybody stands for family photo but Rohit goes behind Ananya as she leaves and Poonam follows. He stops Ananya's car and sits in it and asks her to drive quickly.
The whole family sees and on being asked Bani tells that she is Rohit's girlfriend. Rohit tries to talk to Ananya but she doesn't want to talk to him. She says that he doesn't consider her even a social courtesy and he ignored her on seeing her.Rohit says that his family is crying and Ananya says that it's his fault not her. She asks him to leave and on him not doing so she decides to leave but he stops her. He says he loves her but she says that love is not enough. He tells her that she is his world.
They share an emotional moment but then Poonam's brother Pranav comes at door. Rohit asks him to leave but he doesn't. He sees Ananya and says he better come home but Rohit denies. He then says they will now directly talk in court.He threatens him of destroying him. He thanks him and says he can take his everything if it can help in reducing his guilt and warns him against saying anything bad about Ananya.
Rohit apologizes to Ananya. She questions him if she is just his guilt and talks about leaving. He says he was taking about himself not her. She says that his thought about her concerns her and takes her bag and leaves. Meanwhile Poonam shouts at Pranav on talking about divorce. She asks what about her and her children if they get divorced. Pranav wows to destroy Rohit and Poonam becomes worried about all this happening.
Where will Rohit find Ananyaand will his and Poonam's marriage come to an end? Stay tuned to know.