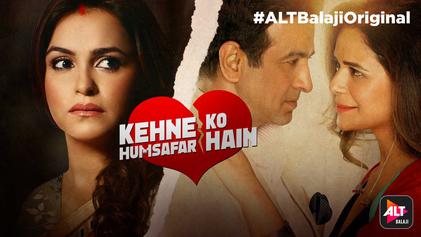 Kehne Ko Humsafar Hain 4th May 2020 Written Update on Tellyexpress.com
Poonam tells Rohit that she is confusing her emotional needs with her physical needs. She says that she is not able to understand her wants. He says that she needs someone's love but he can't justify himself as he is married to Ananya. Poonam says that she was a one who lost control and he is not at fault. She asks him to go and he goes. He comes home and sees Ananya making Bani sleep.Ananya apologizes to him for not being able to talk whole day as she was with Bani. She asks him where he was, he says that he was busy in sorting out the financial mess.
Next day on bed Ananya and Rohit wish each other Merry Christmas. She comes close to him and says that she is very happy that the financial problem is solved before new year.Rohit gets up and goes to washroom and thinks about an incident 4 years ago. In flashbackRohit thanks Ananya for helping him out and then holds her hand and is about to kiss her.She says she should leave but he says that everything will be done but what about their relation. She says that there is nothing between them but he says that he doesn't feel the same way and feels a bond with her. She tries to lie that she doesn't feel any bond but he catches her lie.
Rohit asks her that doesn't she feel anything for him but she says that he is married and it's wrong for him to feel anything and they should stay away from each other. He holds her and says that she shouldn't kill her feelings for the sake of what society will say. He asks her to express her feelings and she gets emotional and they kiss. Next day Ananya says that they shouldn't have done anything and making physical relations is wrong and tells him that he is still married to Poonam and she can't do this. He says that Poonam is his children's mother but their marriage is loveless. She tells him to say all this to Poonam and not her. He comes home and Poonam asks him about his day and he says that it was a long one and he is tired. She asks him to take medicine and rest, the flashback ends.
Nikki asks Bani to help her decorating the Christmas tree but she says she is in no mood.Ananya while leaving for office tells Nikki that they both will decorate it in evening. Rohit comes and Nikki gives him an envelope which came from his office. Ananya asks him he was in office last night so what about it and he says he might have forgotten. She asks for his adhar card but he lies and says he will send it to her.Rohit sits beside Bani and asks her what happened. Nikki jokingly says that Arya is going to dump her. Bani says that she is fine and Nikki is making stories.
Ananya is at the hospital for getting her blood test done and Poonam is also at the same hospital and they meet at the chemist shop. Poonam says hi and hurries to leave but stops to give the money. Ananya sees a love bite on her neck and praises her for moving on. Poonam gets conscious and hides it. Vandy also sees it and Poonam leaves.
Ananya takes a pregnancy kit and they go while talking about Poonam. At home Sheena teases Poonam thinking that she and Abhimanyu made out but Poonam looks stressed. She asks her to flaunt it in front of Rohit but Poonam gives a look. Poonam hides Rohit's wallet, meanwhile Ananya and her friends talk about her lovebite.Ananya says she is happy for her and Vandy teases her more. Ananya tells them that she doesn't feel insecure of Poonam. They chill and the episode ends.